Bangladesh pops up as a fabrics sourcing country amid US-China trade row
Jannatul Ferdushy || BusinessInsider
Published: 09:18, 5 December 2021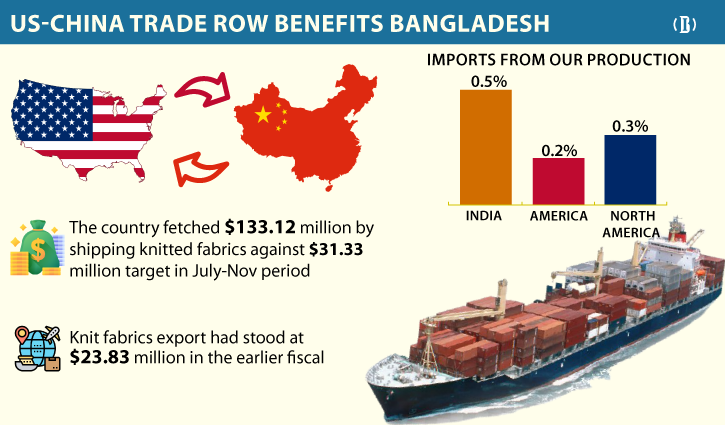 US-China trade row benefits Bangladesh as demand for home fabrics rises abroad. BI infographics.
As the trade row between USA and China intensifies with each imposing huge tariffs on the other's goods, Bangladesh is popping up as a fabrics sourcing destination.
Known as home to cheap and popular ready-to-wear, Bangladesh is experiencing a colossal growth in its knit fabrics shipment. According to Export Promotion Bureau (EPB) data, export of knit fabrics has increased by 459 percent (and woven fabrics by 38.58 percent) during July-November of 2021, year on year.
The country fetched $133.12 million by shipping knitted fabrics against a $31.33 million target and $12.50 million from special woven fabrics against $9.64 million target in this 4-month period as against $23.83 million and $9.02 million during the corresponding period of the earlier fiscal.
"Although, Bangladesh's apparels are the most popular in the world, we have started exporting fabrics, too. Currently, India is importing 0.5 percent of our production, America 0.2 percent and North America 0.3 percent, respectively," Shofiqur Rahman, Head of Marketing of Zaber and Zubair Fabrics Limited told the Business Insider Bangladesh on Saturday.
"Due to the high price of raw materials, the price of fabrics has gone up by 25 percent," he added.
He said as India is expanding their apparel industry, they are now increasingly sourcing the fabrics from Bangladesh.
The ongoing trade enmity between China and the USA will benefit Bangladeshi much in the future, insiders said.
"Due to the trade fracture of China-America, America increases importing fabrics from other destinations including Bangladesh," said Alauddin Hossain, former General Manager of Miami Garments Ltd Bangladesh.
"USA and some other countries use our fabrics as insulation inside their high-end leather jackets and blazers," he said.
"Globally, many countries such as Turkey and India are trying to expand their garment industry. Jordan started sourcing skilled manpower from Bangladesh for their factories. So, demand for Bangladeshi fabrics will go up in the future. But we need to portray professionalism," he said.
Citing some bottlenecks, he said Bangladesh still cannot maintain shipment time and fair pricing.
"It is very important for us to adopt new technologies to beat the expensive product market of which China is the prime player," he said.
Man-made filaments and staple fibres exports have also increased by 117 percent in this four-month time. Surpassing its target, the product earned $171.49 million against a $60.25 million target, EPB says.
Generally, Bangladesh's trousers, denim pants and jackets, T-shirts, girl's tops, and kid's wear are much popular in the US and European markets for their lower prices.
The country recorded exports worth $4.04 billion during July-November, EPB figures show.