Rice prices go up, blame on transport cost continues
BI Report || BusinessInsider
Published: 22:07, 4 December 2021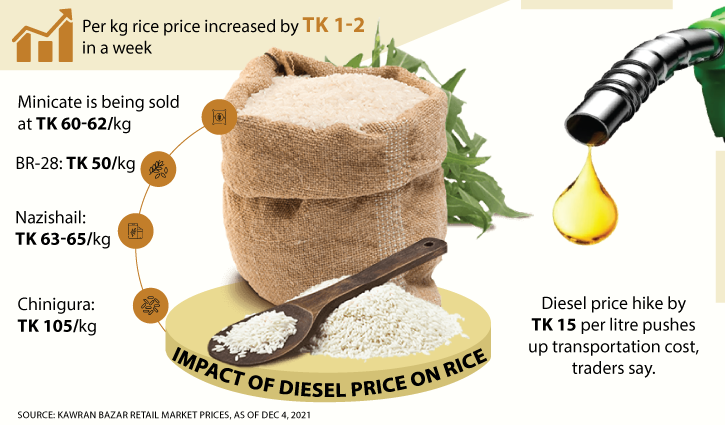 Graphics: Business Insider Bangladesh
More than a month after a rise in diesel price, rice traders continue to blame transport costs for the recent increase in rice prices.
After soaring prices of essential commodities and energy, now rice prices are increasing, putting pressure on low-income people who are struggling to manage their livelihoods amid the ongoing onslaught of the coronavirus pandemic.
Consumers are baffled as they see the price of their staple food is increasing at a time when the country had a bumper crop this year.
Additionally, Bangladesh imported around 8 lakh tonnes of rice Between July and November this year.
Retail prices of all varieties of rice have increased by Tk 1-2 per kg at Kawran Bazar market, one of the country's largest wholesale and retail hubs.
Blaming the price hike to the increase in diesel price last month, traders said they had no alternative but to hike the price as transportation cost has increased by 30 percent.
They said the hike of diesel price by Tk 15 per litre has pushed up transportation costs.
A truck that can carry 300 to 350 sacks (50kg/sack) now charges Tk 20,000 to bring rice from Kushtia to Dhaka, up from Tk 15,000 earlier.
After visiting a number of wholesale rice markets in the capital's Kawran Bazar market on Saturday, Business Insider Bangladesh found that Miniket rice is being sold at Tk 60-62 per kg, BR-28 at Tk 50, Nazishail at Tk 63-65, and Chinigura at Tk 105.
Atash rice, a regular for low and income people, has also increased. It is now being sold at Tk 50 per kg, a Tk 2 increase in two weeks.
However, Kawsar Alam Khan, vice-president of Bangladesh Rice Merchant Association, painted a different picture of the situation.
He said the jump in fuel price has very little to do with the increase in rice price, it has more to do with rice mills collecting paddy from farmers at the same time.
This marginal increase of Tk 1-2 is the work of mill owners, Khan said explaining that mills are competing to collect paddy from farmers and seeing less profit with less opportunity to stock the product.
The rise in rice prices is an inconvenience for consumers and rice mill owners, but good for farmers as they are getting a fair price from this demand from mills, he said.
"Yes, it is true that diesel price jump has increased transport cost, but it only costs Tk .20-.30 per kg more than before," he added.
When contacted, several representatives of the Bangladesh Rice Mills Owners' Association refused to comment on the matter.