Knitwear to comprise 60% of RMG exports at the end of 2021
Jannatul Ferdushy || BusinessInsider
Published: 21:44, 3 December 2021 Update: 15:01, 4 December 2021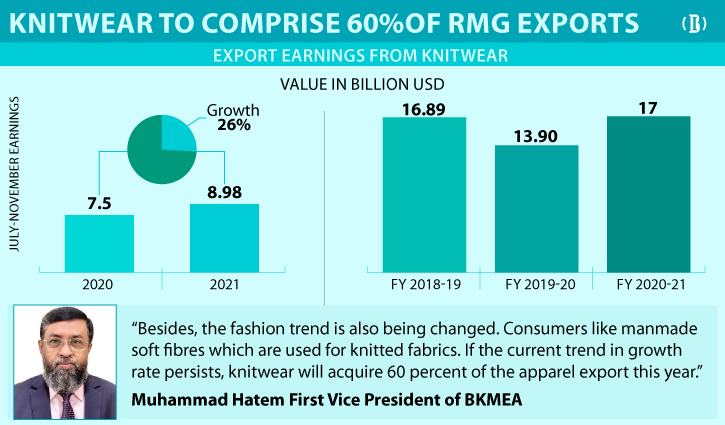 Graphics: Business Insider Bangladesh
Shipment of knitwear has been increasing faster than that of woven garments thanks to the ongoing Covid-19 pandemic that has forced people to work from their respective homes.
However, the fashion taste of the people have been changing rapidly, too, which is attracting more and more people to use manmade fabrics across the globe. Nowadays, people prefer soft and comfortable dresses which are made by knitted fabrics, said industry insiders.
Bangladesh top apparel trade organization, Bangladesh Knitwear Manufacturers and Exporters Association thinks knitwear will snatch 60 percent of the readymade clothing exports by the end of the year.
According to Export Promotion Bureau (EPB), Bangladesh fetched $8.98 billion from knitwear and $6.87 billion from woven exports in July-November, 2021, as against $7.5 billion and $5.7 billion during the corresponding period of the earlier fiscal.
Here the knitwear experienced a growth of 26 percent while woven 19 percent year on year, respectively.
"During lockdown people got habituated with cheaper and comfortable dresses at their respective homes, so the demand for the knitwear scaled up," Muhammad Hatem First Vice President of Bangladesh Knitwear Manufacturers and Exporters Association (BKMEA), told Business Insider Bangladesh on Thursday.
"Besides, the fashion trend is also being changed. Consumers like manmade soft fibres which are used for knitted fabrics. If the current trend in growth rate persists, knitwear will acquire 60 percent of the apparel export this year," he said.
"Mainly, woven wear is made for winter. Currently, we are shipping the wear for the spring. Therefore, the export did increase in November," Shahidullah Azim, Vice President of Bangladesh Garment Manufacturers and Exporters Association (BGMEA), said.
"Moreover, because of the lockdown, demand for knitted apparel was high. I hope the demand for woven wear will increase in the next winter," he told this correspondent on Thursday.
In the pre-pandemic fiscal of 2018-'19, knitwear shipment was recorded at $16.89 billion and woven $17.24 billion, respectively. However, the knitwear fetched $17 billion in 2020-21 fiscal while woven fetched $14.5 billion. It was a full-fledged pandemic year when most of the countries enforced lockdown and the people did office work from their respective homes.
As the Covid-19 pandemic reigned in 2019-'20, the knit sector earned $13.90 billion and $14.04 billion came from woven.