Export earnings continue to beat target, but will it last?
Jannatul Ferdushy || BusinessInsider
Published: 20:24, 2 December 2021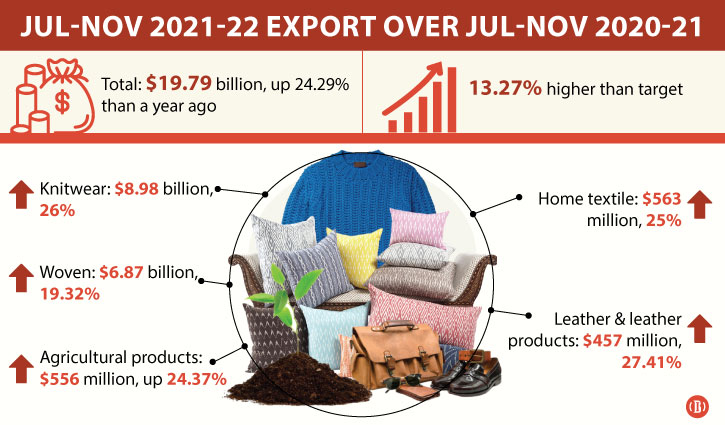 Photo illustration: Business Insider Bangladesh
Bangladesh exported goods worth $19.79 billion in the first five months of fiscal 2021-22, up over 24 percent year-on-year, amid robust external demand, data released by the Export Promotion Bureau (EPB) shows.
Exports earnings during the period were also 13.27 percent higher than the target, an unusual achievement.
As a result, the first five months' export figures accounted for over 51 percent of the entire fiscal year's export in 2020-21.
The surge in export can be partly attributed to the impact of low export base last year as the global trade system was disrupted badly due to the Covid-19 pandemic. As usual, items such as knitwear, woven, agricultural products, leather and leather goods and home textiles continued to drive the growth.
EPB data shows export has been consistently rising and stayed above the $4-billion mark since September. However, the country's export earnings in November were nearly 15 percent lower than that of October.
Of the July-November exports, $8.98 billion came from knitwear and $6.87 billion from woven, up from $7.13 billion and $5.75 billion respectively a year ago.
Two other major export sectors — agricultural and leather and leather products — also saw over 24 percent and 27 percent growth during the period.
"Export has been increasing steadily, which is good news, but we should not be complacent because of the emergence of Omicron, a new virus variant," said Shahidullah Azim, vice president of Bangladesh Garment Manufacturers and Exporters Association (BGMEA).
Already, 19 European countries have imposed restrictions to prevent the contamination of the new coronavirus variant.
"Shipment may decline next month," Azim told the Business Insider Bangladesh.
Zainul Abedin, an exporter who owns AAA TRIMS WORLD, said shipments for the Christmas and winter season began in October and are continuing.
Md Ruhul Amin Sikder, secretary, Bangladesh Inland Container Depots Association (BICDA), said though the European ports are operating under capacity due to the new Covid variant, still exporters are not facing any problem in the Chittagong port.
"However, the container crisis is still there and it may exist in 2022," he told the Business Insider Bangladesh.
Meanwhile, the BGMEA in a statement said though the growth trend in the past three months looks promising, this may be a short-lived phenomenon as the consumption and demand for clothing has seen extraordinary surge in recent few months.
"This needs to be also taken into consideration that the price of the raw materials including textile, dyes and chemicals has gone up. The freight cost has reached a record high. Obviously, export value accommodates the inflation of input cost, so the growth in export is rather nominal, not absolute," reads the statement.