'Bangladesh can tap enormous revenue by stitching formal woman wear'
Global women's wear market to surpass $690 billion in 2024
Jannatul Ferdushy || BusinessInsider
Published: 10:14, 28 October 2021 Update: 11:42, 28 October 2021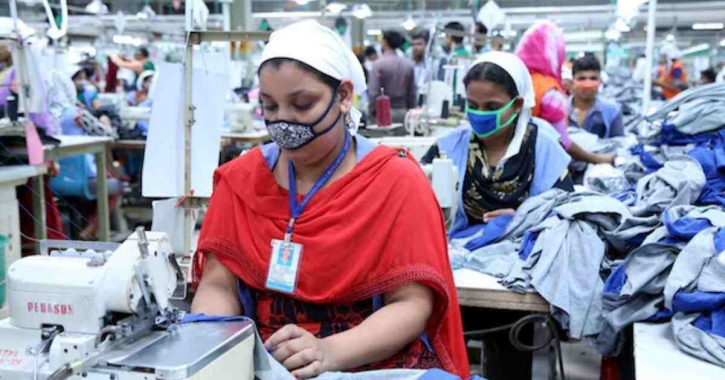 Workers at a garment factory. UNB file photo.
The women's formal wear market is one of the fastest-growing markets across the globe as the participation of women folks into the formal workplaces is growing rapidly.
However, Bangladesh, being the second largest apparel exporter has been lagging behind while accessing the women's formal attire market, exporters said.
Bangladesh knitwear exporters are shipping 50 percent of casual clothing for women across the globe, but they lack access to the trendy formal wear market.
"Presently, we are exporting only 15 to 20 percent of women's formal dress made by woven fabrics and those are destined for EU, USA and Australia," said Shahidullah Azim, vice president of Bangladesh Garment Manufacturers and Exporters Association (BGMEA).
He said to expand Bangladesh's share of proper outfit, manufacturers must develop their own brands.
"To jump from one segment of the market to another is a time consuming effort, so we have to find the opportunities in the existing market. As we are producing women's wear, we can stitch formal wear, too," said Mustafizur Rahman, a Distinguished Fellow at the Centre for Policy Dialogue (CPD).
In many countries hot weather persists for longer…there consumers prefer cotton wear over knit ones, Mustafizur said.
"We may expand our exports to those destinations," he told Business Insider Bangladesh.
"Currently, we are exporting about 50 percent (compared with the men's wear) of women's casual wear weaved by knit fabrics but formal dresses require woven fabrics where our share is not enough," Azim, the vice president of BGMEA, said.
Also, Bangladesh's exporters are reluctant to leave their comfort zone. Therefore, manufacturing a variety of office attire is not taking place. "It also requires special skill which we lack at this point," Azim explained.
The global women formal wear market stood around $ 460 billion in 2017.
The market is anticipated to expand at a compound annual growth rate of around 6 percent during the period 2017-2024 with the revenue reaching to more than $ 690 billion by 2024, according to Research Nester.
Meanwhile, the global women's formal wear market is expected to achieve an incremental opportunity of $ 46.3 billion in 2024 over 2023, RN, an Indian business market research organisation, said.
In 2015, Europe marked the largest consumer base of the women's formal wear market, followed by North America. In 2015, the Europe region projected a revenue share of 30% in the global women's formal wear market. The Asia Pacific region is anticipated to expand at a higher compound annual growth rate between 2017 and 2024 due to increasing employment of women in emerging economies such as India and China.
In terms of revenue share, women apparels segment is anticipated to hold the largest segment of the global market, various trending fashions are boosting the sales of women apparels across the globe.
The basic need of clothing along with fashion consciousness and changing lifestyle is propelling the growth of the market. In the women formal wear market, brand loyalty and brand recognition are the key business strategies that should be adopted by major leading players, said RN.