Light business goes dark at Purana Paltan
Hasibul Hasan Shanto || BusinessInsider
Published: 03:31, 18 September 2021 Update: 21:56, 18 September 2021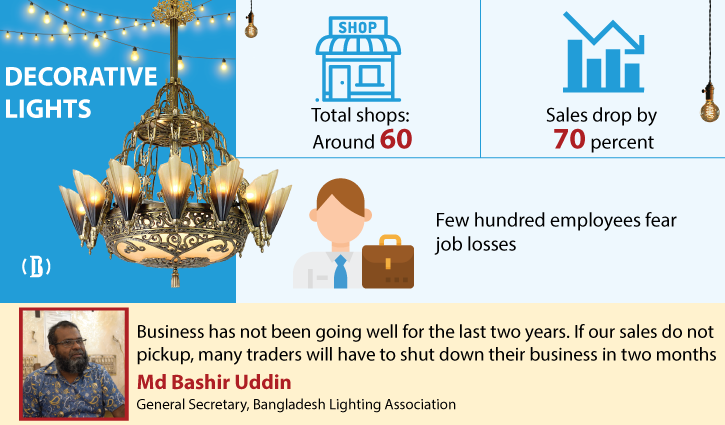 Illustration: Business Insider Bangladesh
A chandelier does not just fill the house with light, it also illuminates with nobility. But the business of lights is no longer as glittering as it used to be some 18 months ago.
The trades of lights and chandeliers have also fallen under the terrible attack of Covid-19 pandemic.
Traders' association said there are approximately 55 to 60 light shops at the Purana Paltan area in the city. Except for some of the shops, everyone is struggling to keep the business afloat. Two-thirds of the sales of these stores have dropped. If sales do not improve, most of the traders will have to leave the business, traders said.
"The current situation is very unusual to me in my 20 years of lighting business. There had been many days we couldn't even sell a single product. Before the pandemic, usually we used to sell a good amount of products, but everything just shattered and changed in the last one year," said Mohammad Ali, the owner of Sayma Lighting Plus.
"Our sales have dropped to 30 percent and we are struggling to keep the business running," he noted.
"Chandelier is a fancy item. Businessmen, real estate developers and members of elite class come to us who have compassion for decorating their houses fancifully," said K Md Ahsanuzzaman, manager of Nimo Lighting.
Most people love to brighten their homes or apartments. But like many other businesses, light traders have also seen the brutal reality of Covid-19 pandemic, pointed out Ahsanuzzaman.
Some traders have got the bitterest story to share. "Maybe you won't believe me, but I am running out of operating capital. I am injecting fresh capital to run my business," said Md Nur Alam Bhuiyan, proprietor of Nazlin Enterprise.
He told Business Insider Bangladesh that it was getting harder day by day to keep running the business, with office rents, staff salaries and utility bills.
"Currently, I am only thinking about paying the bank loan and surviving somehow. Because of the situation we are having now, I can't think of making any profit," Alam said.
Most traders say the overall business situation is deplorable because of the coronavirus fallout.
A leader of the Bangladesh Lighting Association does have love for his fellow colleagues.
"Our business has not been going well for the last two years. I am afraid how 500 families involved in this business will survive, if the situation does not improve," said Sayed Md Bashir Uddin, the general secretary of the Bangladesh Lighting Association.
He said he was afraid many traders might leave the business after another month and a half.
"Some of the traders are running their businesses taking loans from various banks and relatives, but the second wave of the coronavirus has battered us badly. Some of us may survive a month or two, not more."