Computer accessories market heats up on supply crunch
BI Report || BusinessInsider
Published: 12:39, 15 June 2021 Update: 17:37, 15 June 2021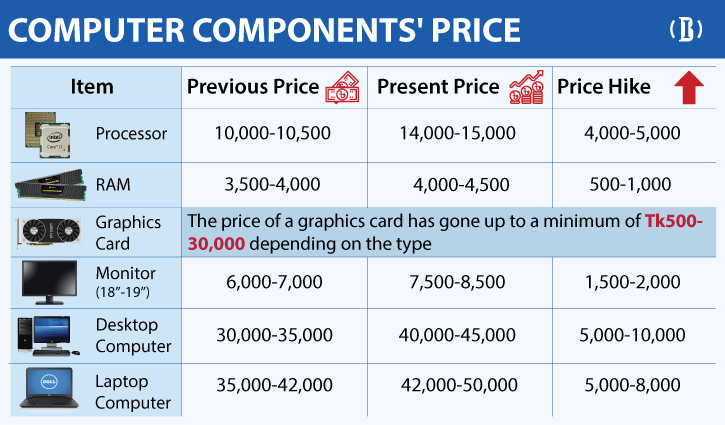 Infographic of the price chart of computer accessories. Photo : Business Insider Bangladesh
Home-based schooling and work have been pushing prices of desktop computers and laptops way too much at a time when factories of accessories are also shut as a response to Covid-19 pandemic.
Moreover, the number of products that are in demand is not also available in the international market, at this time, market sources said.
Computer and laptop assembling companies in Bangladesh get their accessories imported mainly from China, Thailand, Malaysia and Taiwan, where production fell because of the spread of the extremely lethal Coronavirus.
Graphics cards are the most expensive ware among the computer components. The price of a graphics card, especially suitable for gaming purposes, has almost tripled, depending on its type and durability. The price of such a card has gone up by a minimum Tk 500 and maximum Tk 30,000 respectively, market sources said.
At the same time, the prices of RAM, processor and monitor, and other essential computer accessories, have also spiraled.
Such as, in the market, the price of Intel of AMD Ryzen processor has increased by around Tk 5,000.
Due to the chip crisis, RAM price has gone up, too, from Tk 500 to Tk 1,000.
Currently, the demand for monitors is much higher in the market than other computer components. However, as there is a supply shortage as against its demand, the price of a monitor has also gone up by Tk 1,500 to Tk 2,000.
Clone computers have always been generally cheaper than brand PCs in the market. But now, the price of a clone computer has escalated to the level of a brand PC due to the crunch in accessories.
Retailers said laptops and PCs of different brands including HP, Dell used for office works are being sold at Tk 45,000 to Tk 50,000 and Tk 42,000 to Tk 50,000 as against their previous prices of Tk 35,000 to Tk 40,000 and Tk 35,000 to Tk 42,000, respectively.
Ashraful Islam, a sales officer at Ryans Computers said: "Basically, the demand for computer accessories in the global market at this time is much higher than other times. But the chip crisis can affect clone as well as branded PCs".
"The shutdown of factories due to the global epidemic is the main cause of this price hike," said the Sales and Marketing Officer of Computer Village, requesting anonymity.
Asif Zaman, who came to purchase some computer accessories on Monday at IDB Bhaban told Business Insider Bangladesh that a keyboard that his friend had bought from Fine Tech for Tk 1,600, was now selling for Tk 1,700.
Computer industry stakeholders said if the crisis continues, the prices of these products may rise aberrantly, in the coming days.
And it is yet to be known when the price will come to an equilibrium, as the market remains volatile, sources said.