Govt launches programme for training, employment of 20,000 IT graduates
Published: 14:11, 14 March 2023 Update: 21:24, 14 March 2023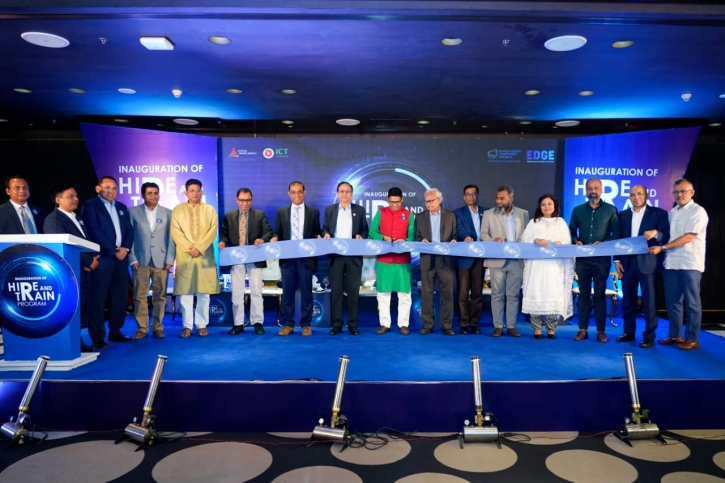 Photo: Collected
The government has launched the `Hire and Train Program' to impart training and employment of 20,000 IT graduates by 2026.
State Minister for ICT Zunaid Ahmed Palak inaugurated the program at a city hotel on Monday.
World Bank financed EDGE project making a partnership with the Center for Project Management and Information Systems (PMIS) and the Institute of Information Technology (IIT) of Dhaka University and RISE of Bangladesh University of Engineering and Technology (Buet) has been organising to provide training to 20,000 IT graduates by 2026 on advanced technologies like artificial intelligence (AI), internet of things (IoT), robotics, blockchain through the country's IT companies.
The ICT state minister said after the first, second, and third the fourth industrial revolution (4IR) has been coming at a quick pace bringing a revolutionary change to almost everything around us. "We will lag behind if we fail to cope with this change."
Considering the consequence of 4IR, Palak said the ICT Affairs Adviser to the Prime Minister, Sajeeb Wazed Joy, has instructed to work in four areas of technology —microprocessor design, artificial intelligence, robotics, and cyber security and the government has already started to work on it.
"Hire and Training Program' has also been designed by the three stakeholders-- public, private, and academia and the main characteristic of this model is: the IT companies will hire the IT graduates as per their demands and then provide them training," Palak said.
He also said the hire and train model has become an ideal example to reduce the gap between public, private, and academia as it has built an excellent partnership among these three stakeholders. "There will be no gap between public, private and academia in future."
The ICT state Minister said the success of building a Smart Bangladesh is depending to a great extent on innovation, research, and skills in advanced technologies.
Palak said Prime Minister Sheikh Hasina has again offered her dream of transforming Bangladesh into a sustainable, intelligent and knowledge-based, and innovative Smart Bangladesh by 2041. `We are hopeful about materializing her dream combinedly before the stipulated time," he said.
Chaired by Executive Director of BCC Ranjit Kumar the function was addressed, among others, by Vice Chancellor of Bangladesh University Engineering and Technology (Buet) Dr Satya Prasad Majumder, Secretary of ICT Division Samsul Arefin, Senior Transport Specialist and Program Leader of World Bank Rajesh Rohatgi, Deputy Project Director Mohammad Saiful Islam Khan. Component Team Leader EDGE Project Dr Mahfuzul Islam Shamim and Chief Executive Officers (CEOs) of more than 100 IT companies were also present.
Earlier, EDGE Project Director Dr Muhammed Mehedi Hassan, PMIS director Prof Akram Hossain, Director RISE of Buet Dr Mohammad Anisuzzaman Talukder, Director of IIT Dr Mohammad Shafiul Alam Khan, BASIS President Russel T Ahmed, BACCO President Wahid Sharif and Digital Development Specialist of World Bank Suparna Roy took part in the panel discussion on `Skills for Smart Bangladesh' which was conducted by Managing Director of Startup Bangladesh Sami Ahmed.