National mobile browser 'Torjoni' launched
Published: 21:00, 7 March 2023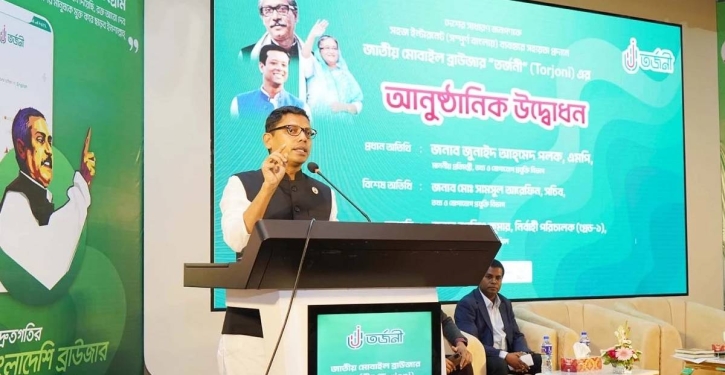 Photo: Collected
The government on Tuesday launched national mobile browser "Torjoni".
State Minister for Information and Communication Technology Zunaid Ahmed Palak inaugurated the browser at the BCC Auditorium in Agargaon.
The browser has been launched at the initiative of the ICT Division on the occasion of the historic March 7 to help common people of the country to use internet in Bangla.
"On March 7, Bangabandhu gave hint to the 7.5 crore people with his index finger . At the behest of that index finger, the country's banks, insurance, office, courts and everything ran. He raised his index finger and united the nation for the freedom struggle and gave the direction of the Liberation War," said Palak.
"Today we are launching the "National Mobile Browser Torjoni" in the name of that index finger," he said.
"We are now entering smart Bangladesh from Digital Bangladesh. To get the benefits of this smart Bangladesh, we should not rely solely on foreign-based services. We have to be self-reliant. We want to create such a 'Smart Bangladesh' ecosystem, which will be self-reliant. We have brought the 'Torjoni' for that self-reliant smart Bangladesh," the junior minister said.
"We want to build a self-reliant smart Bangladesh where we will have our own operating system, users will use the internet in their own browser."
The Torjoni browser has been launched by the Establishment of Secured E-mail for Government and Digital Literacy Centre of Bangladesh Computer Council (BCC).
Google Chrome is a fast and secure browser, which is widely used all over the world. On the other hand, Torjoni has been created to remove the linguistic complexity of Bengali language users.
The browser does not just have Bangla; There is also an English language option for users.
This safe and fast Bangladeshi browser will be available on Apple and Google Play Store.
Executive Director of Bangladesh Computer Council Ranjit Kumar presided over the function while ICT Division Secretary Md Nojibur Rahman, among others, spoke on the occasion, among others.