Meta contributes over Tk1.5cr for Sitrang-hit people's rehabilitation
Published: 21:02, 16 November 2022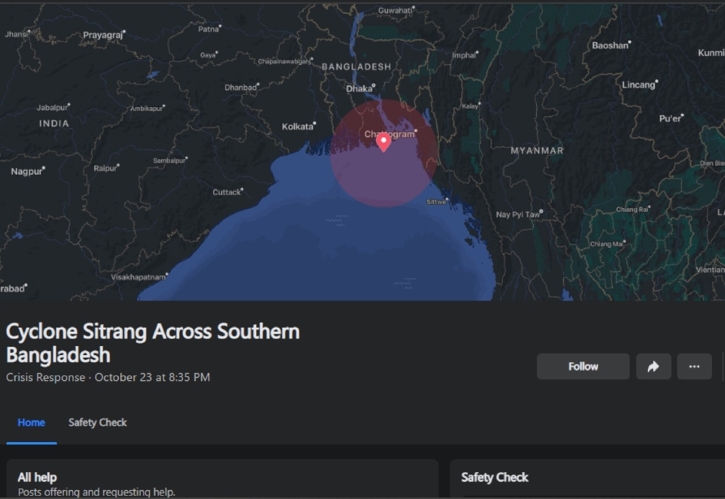 Representational image. UNB file image.
Meta has committed more than Tk1.5 crore to Bangladesh Red Crescent Society and Brac to help them with rehabilitation efforts for the communities impacted by cyclone Sitrang.

This commitment also includes funding to support disaster preparedness activities through Bangladesh Environment and Development Society in partnership with GlobalGiving.

Sitrang has damaged at least 10,000 homes in Bangladesh, and about 1,000 shrimp farms were washed away in floods.

These contributions, which are being made directly and from Meta's Crisis and Disaster Response Fund, will also go towards relief and disaster preparedness initiatives of the three Bangladesh-based non-profit organisations, the company said in a statement.

"Our thoughts are with the people of Bangladesh who are recovering from the devastating effects of cyclone Sitrang. We hope that our contributions will support local organisations that are working hard to rehabilitate people who were impacted," Jordi Fornies, Meta's director for emerging markets in Asia Pacific, said.

People often rely on online platforms to stay connected during and after natural disasters. After the cyclone hit Bangladesh, Meta created a Crisis Response page on Facebook where people can use the Community Help feature to request help or offer support, such as food, shelter, and emergency evacuations. The platform also activated Safety Check, which enabled people to let their friends and family know that they are safe.

"Alongside connecting people, Meta's platform Facebook also helped us to get real-time updates and information from the field. This hands-on information also enabled us to take effective decisions to support people in need in a timely manner. In addition, the financial assistance from Meta also contributed to our ongoing response and recovery effort for cyclone Sitrang and helped us to reach out to more people," Kazi Shofiqul Azam, secretary general of Bangladesh Red Crescent Society, said.

Meta is also giving $100,000 in ad credits to local organisations to support their campaigns related to crisis response. This will also help their future preparedness plans for climate-induced disasters in Bangladesh.

"Communities living in the coastal areas of Bangladesh are at the forefront of devastating impacts of cyclones. Every year, the country is facing a new level of damage due to cyclonic storms. As such, cyclone Sitrang also left a trail of destruction in several coastal districts, including damage to shelters, croplands, and fish enclosures," Md Liakath Ali, director of the Disaster Risk Management Programme of BRAC, said.

"BRAC acknowledges that disaster risk reduction requires support and humanitarian assistance to recover the losses. We thank Meta for its generous support in the wake of natural and human-caused crises, so that affected people will be able to meet their urgent necessities."

According to a recent World Bank Group report, average tropical cyclones cost Bangladesh about $1 billion annually. The research suggests that over 13 million Bangladeshis may become internal migrants in the next 30 years due to climate impacts.