SEEMO's security system used at over 1,200 homes
BI Report || BusinessInsider
Published: 18:09, 20 January 2022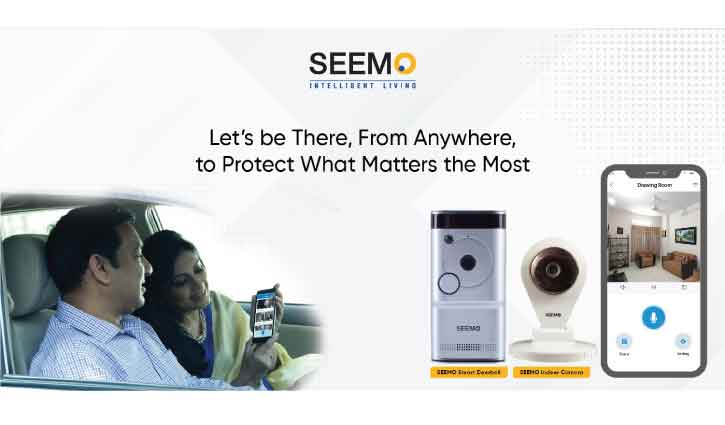 Photo: Courtesy
In 2017, Bangla Trac Solutions Ltd launched a homegrown technologically advanced brand called SEEMO- the FIRST SMART SECURITY brand of Bangladesh.
SEEMO is designed to make homes and workplaces safer, family secure, and thus, making life easier.
It offers an easy installation process with less requirement of accessories like network cables, NVRs, said a press release.
Whilst CCTV cameras require a TV monitor and other additional equipment, SEEMO ensures the availability of event footage in the cloud in case of loss or damage to the camera itself.
SEEMO users can monitor their premises or valuable assets from their smartphone using SEEMO app which eventually gives the end-user full control of their surveillance needs eliminating the dependency on any appointed or third-party security personnel.
The proactive motion alert feature of the app also enables users to intervene in any unwanted incident rather than taking a reactive approach after the incident has taken place.
M Tanvir Siddique, Head of Operations at Bangla Trac Solutions Ltd. Said. "SEEMO is the first smart security solution in Bangladesh that is dedicated to make your home and workplace safe, family secure and make life easier. This smart security brand is launched with two basic Wi-Fi-enabled security products - Smart Video Doorbell and a Smart Indoor Camera which will keep a tab on your home's security remotely through your mobile phone using SEEMO app. The vision is to cover 360-degree security needs in our lifestyle with more innovative products and services under the brand."
"Bangla Trac Solutions Ltd. believes in impacting people's lives with advanced technology and constant development where SEEMO stands for security, for convenience, for life. Currently, we have around 1200+ SEEMO installed in homes around the country since our launch back in 2017." he added.