'Fabric Lagbe' mobile app launched
BI Report || BusinessInsider
Published: 18:56, 11 January 2022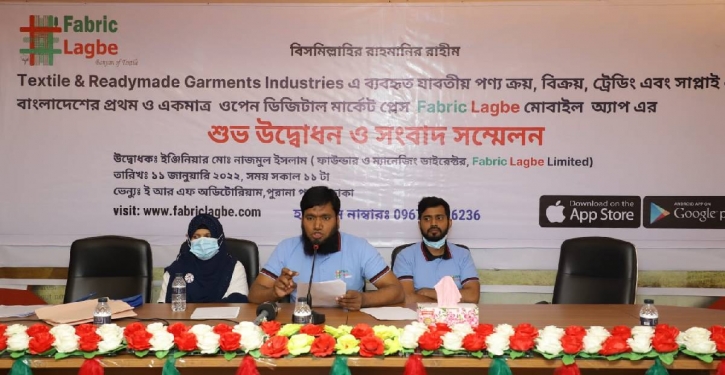 'Fabric Lagbe' mobile app was launched on Tuesday. Photo: Courtesy
A digital platform to sell textile and readymade garments products, materials, product related accessories online marketplace 'Fabric Lagbe' launched formally on Tuesday.
Fabric Lagbe Limited, first digitally supported innovative digital platform in Bangladesh to bring affordable and hassle-free supply of products and services used in the textile and readymade garments industry, brings mobile app Fabric Lagbe, according to a press release.
Through the app and web portal related products such as readymade garments, textiles, will be easier to purchase and sale of supplies, sizing, dyeing processing, chemicals, machineries, among others.
Even supply and placement of work orders for factories and recruitment of necessary workers and employees will be facilitated at the platform, it reads.
Using this platform the buyers and producers can choose the right person for selling or buying goods through business to business (B2B) contracts in an easy way.
Not only that, the final export order of readymade garments industries and backward links such as spinning, weaving, dyeing, printing and finishing solutions would get from this digital marketplace.
The platform is basically a combination of textile and readymade garments industries, where the producers can sell its products (readymade garments, fabrics, yarn, and accessories, sizing, dyeing processing, chemical, machineries, etc.) directly.
Except the middleman, they can sell products in cash (without the remaining). The buyer, on the other hand, will be able to purchase directly from the manufacturer as per his choice (fabric, yarn, and other app related products) from this digital platform.
The producers can display their products by listing at 'Fabric Lagbe' mobile apps or web portal and can arrange live bids for selling products.
A producer is able to know his product review and rating update after uploading his business history transparently in this digital marketplace. The producers and buyer can be able to inform their satisfaction or dissatisfaction regarding a particular product through review rating. Such information will be sent as a warning to the buyer or sellers by mobile apps before next time dealing.
Founder and managing director of this digital platform Engineer Md Nazmul Isalm said that options named job and work have also been added at Fabric Lagbe apps and websites where job seekers can upload their CV along with qualification and experience.
Garment manufacturers can recruit or hire suitable manpower by using the facility at the web portal, he said while addressing the launching of 'Fabric Lagbe' digital platform in a function held at the auditorium of Economic Reporters' Forum in the capital on Tuesday.
Replying to a query he said small and medium garment factory owners can search for the right buyer and fair rate of products easily by using the digital platform.