Fiverr Bangladesh community organises freelancers' meetup
BI Report || BusinessInsider
Published: 18:39, 3 January 2022 Update: 18:40, 3 January 2022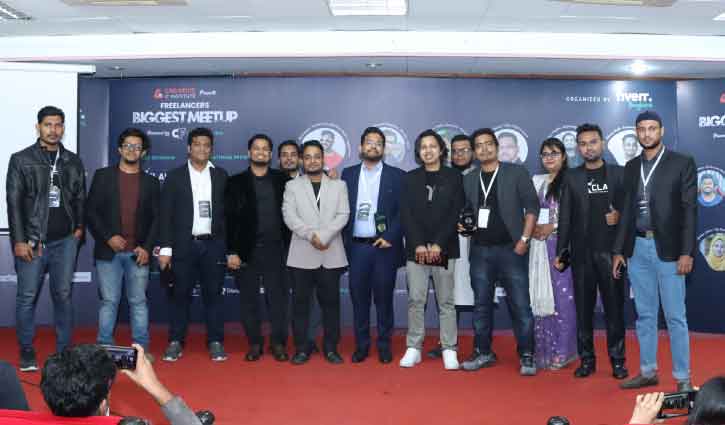 Photo: Courtesy
Fiverr Bangladesh community organised the biggest meetup of the year "Freelancers Biggest Meetup" with freelancers on December 24.
The title sponsor was the Creative IT Institute, "powered by" sponsor was Creative Fabrica and Payoneer was the Platinum Sponsor, said a press release.
CEO of VISER X Limited and Fiverr Community Leader Faisal Mustafa, CEO of Instructory and Fiverr Community Leader Rifat M Huq, CEO of Creative IT Institute Monir Hossain, Community Manager of Creative Fabrica Md Riduwan Molla, Payoneer Bangladesh Ambassador Emrazina Islam, QT Academy Founder Ahosan Uddin Noman, Bangladesh Freelancer Development Society Chairman Dr Tanjiba Rahman, Learn With Hasin Hayder's founder Hasin Hayder, DewApples founder Kamruzzaman Sishir, Zaman Talk's Author Golam Kamruzzaman, ICITP Founder Sharif Muhammad Shahjahan and Bangladesh's top freelancers and IT professionals were the keynote speakers at the event.
Faisal Mustafa, the group's founding admin and Fiverr Community Leader, said, "Freelancers are much more likely to be entrepreneurs, which will generate foreign remittance as well as employment for many people. "
Rifat M Huq, Organizing Lead of the whole event and Community Leader of Fiverr, said, "After almost 2 years 1000+ freelancers are very glad to participate in such a big meetup. Such events should be organized regularly for freelancers."
Monir Hossain, the event's title sponsor and founder of Creative IT, said, "This has been a great event for freelancers, where they have learned about various tips and tricks of the IT sector including freelancing. I think such a freelance event will further advance the freelancing sector."
Md Riduwan Molla, the event's Sponsor and community manager of Creative Fabrica, said, "We are overwhelmed because freelancers have come to our meetups from every corner of Bangladesh. We are constantly working for freelancers from Fiverr Bangladesh Group, and we will work on how to provide more opportunities for freelancers in the future."