Inclusive blended education in Bangladesh: Need to emphasise on 4 areas
BI Report || BusinessInsider
Published: 20:16, 20 November 2021 Update: 21:06, 20 November 2021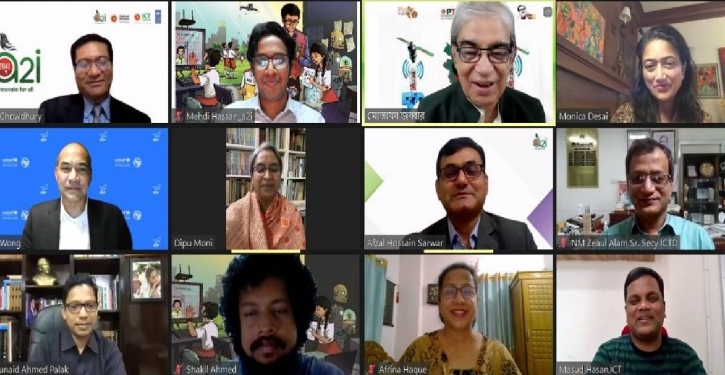 Participants at a virtual event over blended education. Photo: Collected
Inclusive infrastructure, startup ecosystem for innovation, roadmap to rich content and creative partnerships will need to be emphasised for the success of the inclusive blended education in Bangladesh.
The outcome came from an agreement from a high-profile panel discussion, organised by the R&D Subcommittee of the Blended Education National Taskforce (BENT), held online on Thursday, according to a press statement.
Minister for Education Dr. Dipu Moni, Minister for Posts and Telecommunications Division Mustafa Jabbar and State Minister for ICT Division Zunaid Ahmed Palak, Global Head of Connectivity and Access Policy of Meta (formerly Facebook) Monica Desai and Chief of Special Initiatives of ITU and Co-Lead of Giga Alex Wong, were present at the discussion as panel members.
During the panel discussion, Dr. Dipu Moni, talked about the challenges and the opportunities faced during the pandemic, and the steps necessary to ensure the new planned blended learning system.
She emphasised on the need for the teachers to undergo extensive training and changing their mindset to benefit from the opportunities the technology can bring.
While emphasizing on the importance on multimedia contents the education minister said, "We're talking about joyful education all the time and learning is joyful when we experience everything."
She also said, "The main issue here is collaboration and partnership, and while we are talking about partnership and collaboration, I hope no one will hold back."
Minister for Posts and Telecommunications Division Mustafa Jabbar specified three key challenges, i.e., connectivity, multimedia content and digital devices.
As a solution, the government is encouraging the local entrepreneurs to manufacture digital devices, so that students can access to the digital education system, he said.
While talking about accessibility of multimedia and interactive contents to everyone, the minister said, "5G is one of the best technologies for the entire world particularly targeted at the fourth industrial revolution and using those technologies like robotics, IoT, artificial intelligence, augmented reality, and other things."
While mentioning about Prime Minister Sheikh Hasina's drive towards ensuring electricity, education, and internet accessibility to all, State Minister for ICT Division Zunaid Ahmed Palak, said, "Our next target is to provide quality education, quality internet, and quality electricity and health facilities to all."
He also mentioned ICT Advisor to the Prime Minister Sajeeb Wazed's 3A model for Digital Bangladesh, saying "Connecting the citizens with the internet was the first priority of our digital Bangladesh vision and we wanted to make internet affordable, available and accessible."
He also shared his plan to setup 300 'Schools of Future' where at least one AR-VR lab will be available and invited Meta to provide content and knowledge support.
Monica Desai shared details about Meta's connectivity programs and how they can accelerate Bangladesh's digital economy.
She stated "We are happy to collaborate with the government and connectivity partners on the ground to explore new ways to support connectivity and affordable access to advance the country's digital growth goals."
She also emphasised on Meta's commitment to support Bangladesh on her efforts to achieve the inclusive digital economy and become a regional role model.
On the challenges of covering the operational expenses through public financing Chief of Special Initiatives of ITU and Co-Lead of Giga, Alex Wong said, "What we want we Giga is to create opportunities, markets, and to work with the governments so that it can attract additional investments."
While explaining how the new Giga's $5 billion bonds works, he mentioned that it can help Bangladesh to prepare the ground investment through policy regulatory reviews and pilot connectivity projects.
Mentionable, Bangladesh has made considerable strides when it comes to access to education.
However, challenges remained with regards to the quality of learning in classrooms, even before the pandemic.
The pandemic required an urgent approach to ensure the continuation of education leading to undertaking a different strategic approach with a multimodal teaching-learning approach using a combination of Hi-Tech, No-Tech, and Low-Tech modalities.
This approach got the policymakers thinking of a new efficient and customised blended education ecosystem convenient for diverse learners, finally leading the Ministry of Education, Ministry of Primary and Mass Education, Ministry of Post, Telecommunication & Information Technology to take the initiative of creating and implementing a National Blended Education Master Plan.
Senior Secretary of the ICT Division & Chair of the R&D Subcommittee of BENT N M Zeaul Alam, gave the closing remarks.
Policy Advisor of a2i Anir Chowdhury moderated the panel discussion while Policy Specialist of a2i Md. Afzal Hossain Sarwar gave opening remarks at the beginning of the panel discussion.
The high officials of the ICT Division, Posts and Telecommunications Division, Bangladesh Telecommunication Regulatory Commission, a2i, Meta and GIGA, among others, were also present at the occasion.