BCB warns Mohammedan for breaching bio-secure bubble
BI Report || BusinessInsider
Published: 18:26, 9 June 2021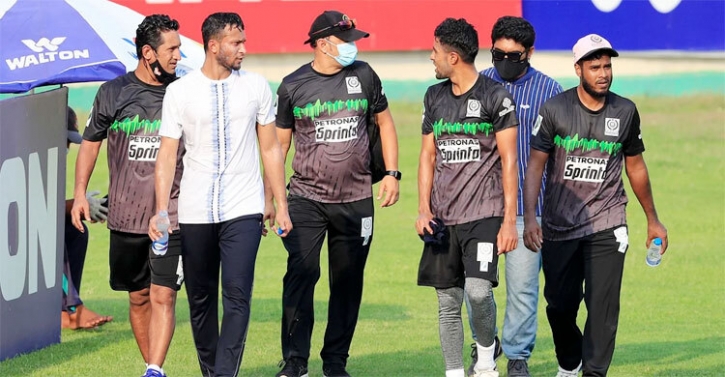 Mohammedan skipper Shakib Al Hasan seen with Mohammedan coaching staffs during a practice session. Photo: Collected
Captain Shakib Al Hasan and his team Mohammedan Sporting Cup have narrowly escaped punishment but received an official warning from Bangladesh Cricket Board (BCB) after breaching the bio-secure bubble during the ongoing Bangbandhu Dhaka Premier League (DPL) Twenty20.
The Cricket Committee of Dhaka Metropolis (CCDM) and the BCB had arranged for 12 clubs to be housed in the bio-secure bubble to ensure the health of the DPL.
But the bubble was allegedly breached on Friday during a practice session of Mohammedan Sporting Club with an outsider entered the premises when Mohammedan skipper Shakib was having batting practice at the indoor of the Sher-e-Bangla National Stadium.
BCB director and the chairman of CCDM and Kazi Inam Ahmed had earlier announced that they would investigate the bio-secure bubble breach incident during a practice session of DPL.
Ahead of the tournament that began on 31 May, the BCB had announced that any breach might result in a fine, suspension or even point deductions for the club.
In a video message sent by BCB on Wednesday, Kazi Inam Ahmed said they had completed the investigation. He also said that Mohammedan offered an apology after realising their mistake.
"Mohammedan accepted that the breach was an unfortunate act by them. They also offered an apology. We are looking forward to hosting the remaining part of the league safely. We have contacted all the clubs, and we are working continuously to keep the bio-secure bubble intact. We will issue a notice to Mohammedan to ensure that such an incident doesn't take place again. And at the same time, we hope the tournament will go ahead successfully," Kazi Inam said.
Apart from CCDM chairman Kazi Inam Ahmed, BCB CEO Nizam Uddin Chowdhury, technical director of the league, Jalal Yunus, Shakib Al Hasan and Mohammedan top officials joined the virtual hearing.