Asia Cup World Ranking Archery: Bangladesh clinch gold medal in recurve mixed team event
Published: 21:34, 19 March 2023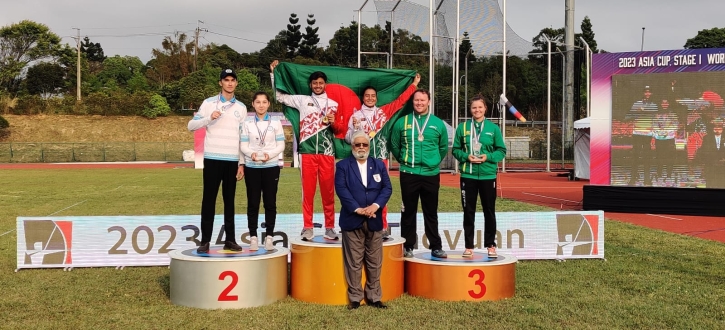 Photo: Collected
Bangladesh team clinched gold medal in the recurve mixed team event of the 2023 Asia Cup World Ranking Tournament beating their Kazakhstan rivals in Chinese Taipei on Sunday.
Bangladesh mixed doubles pair Hakim Ahmed Rubel and Diya Siddiqui beat their Kazakhstan rivals Abdullin Ilfat and E Alina partner by 5-3 set in the event's final Monday afternoon.
Mohammad Abdul Hakin Rubel earned a bronze medal for Bangladesh in the recurve men's singles beating his Kazakhstan opponent Abdullin Ilfat by 6-4 set in a bronze medal deciding match of the event, also on Monday.
However, Diya Siddiqui of Bangladesh lost to her Malaysian rival Mashaqikh Syaqiera by 4-6 set in the 3rd place deciding bronze medal match of the recurve women's singles on Monday.
A nine-member Bangladesh National Archery team comprising six archers and three officials left the capital for Chinese Taipei last Tuesday.
Members of Bangladesh team: Mohamnad Hakim Ahmed Rubel, M Sagor Islam, Ram Krishna Saha (recurve men's archer), Diya Siddiqui (recurve women's archer), Mohammad Ashiquzzaman (compound men's archer) and Shymoli Rai (compound women's archer).
Officials: Aynal Haque Swapan (team manager), Martin Frederick ( head coach) and Mohammad Hasan (coach).