'Nobody batted long enough to make a big partnership'
BI Report || BusinessInsider
Published: 13:27, 8 August 2022 Update: 15:05, 8 August 2022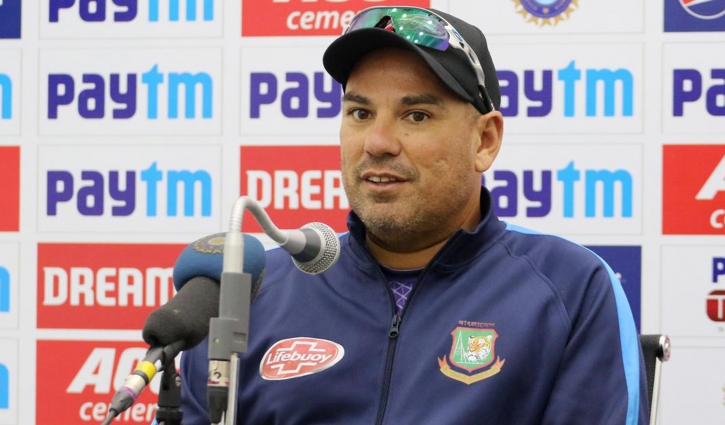 Russell Domingo. Photo: File
Bangladesh head coach Russell Domingo thinks that the repetition of the same mistakes was the reason behind losing the ODI series to Zimbabwe.
After tumping the Tigers in the T20I series Zimbabwe sealed the ODI series as well as they won the first two matches with a great run-chase. Now they are eying to clean sweep the visitors while Bangladesh will try their best to avoid the whitewash.
Zimbabwe chased 304 with 10balls to spare in the series opener and in the second match they reached the 291-run target comfortably with 15 deliveries in hand. Both the times coming back from the early loss of wickets and overpowering a slow scoring rate, reports Cricbuzz.
Sikandar Raza and Regis Chakabva turned the tide with a 201-run fifth-wicket partnership to help the host clinch the series for the first time since 2013. In the opening game too, Zimbabwe had made a similar effort as they chased down over 300 runs despite struggling at one point in the game; Sikandar and Innocent Kaia had then scripted a memorable comeback.
''As a coach and as management, it's very frustrating to see the mistakes because we seem to be making them more regularly than we should. We talked about it and we are trying to work on it but then under pressure players seems to make same mistake and that is an area of concern for us,'' Domingo told reporters after the second game at Harare.
"In both games they were 16 for 3 and 40 for 4 and then boys just didn't deal with the pressure well enough. Too many soft balls, too many balls bowled to the wrong field and wrong options taken. Boys are trying but they are not learning quickly and they are making the same mistakes over and over again. It's a disappointing thing. They are trying hard but they are just not learning from their mistakes and keep making the same mistakes over and over and good teams and good players gonna punish you under these conditions. They are punished by four really good hundreds in the last two games."
Domingo said that they were never complacent while taking on the hosts and that their failure to form a big partnership was the major difference between the two teams.
''No complacency at all. We have been talking about how dangerous this particular side is and last year we won the series 3-0 but there were really two tight games and we won the T20Is 2-1, so complacency never came into it,'' said the South African.
''We haven't got any hundreds we have got lot of 50s and lot of 40s but nobody batted long enough and got that big partnership.
''Some great lessons for us coaching staffs and for the players with World Cup still year and a half away. Fortunately, these games don't count for points so we got to see that as a great learning experience because we got outplayed in these last two games,'' he said.
Domingo added that Zimbabwe should be credited as they outplayed Bangladesh in both games.
''I think you got to give credit to Zimbabwe and Sikandar in particular as he played fantastically well. Two of the better one-day hundreds you will find under pressure. Look we probably know we left 20 runs out yesterday, maybe 20 runs out today... we could have got more and it's very difficult to defend in the afternoon and Zimbabwe thoroughly deserve the win and they outplayed us in both days. No excuses,'' said Domingo.
''They have got a batter (Sikandar) who is in the form of his life. He is playing as good as any international player I have seen even in the T20Is, he played in the qualifier and he played two unbelievable game and some of the younger player like Regis and others they are maturing now and getting more experience and getting a bit more knowhow about how to win games. They got a bit more structure in their batting line-up and they cleared the boundary in the middle. They also played spin a lot better than we played and that is the biggest plus factor for them,'' he said.