What is behind Pakistan's deadly mosque attack?
BI Desk || BusinessInsider
Published: 06:47, 1 February 2023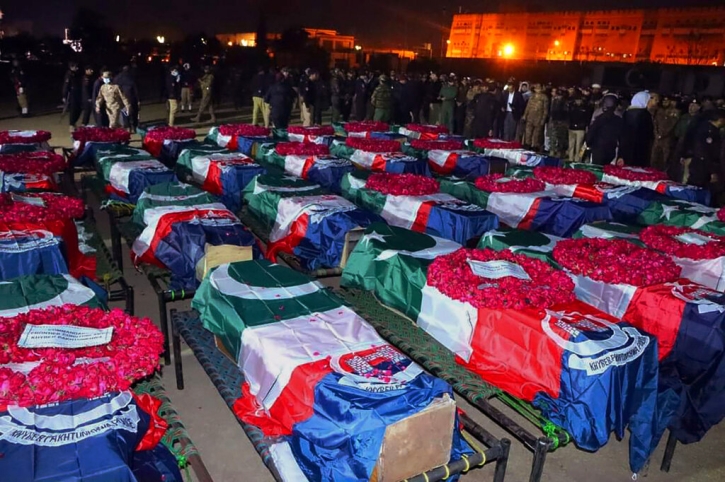 Photo: Collected
Authorities are investigating how a suicide bomber killed at least 100 people at a mosque in a high security zone in Peshawar, Pakistan.
The attack, one of the country's deadliest in recent years, has shocked Pakistanis. Most of the dead were security force members at prayer.
City police who are on the frontline against militants believe they were targeted to demoralise them.
It comes two months after the Pakistani Taliban abandoned a ceasefire.
Since then violence has been on the rise, with frequent attacks on police and soldiers, reports BBC.
A claim that the hard-line Islamist militant group Tehrik-i-Taliban Pakistan (TTP), as it is known, carried out Monday's bombing was later denied by the group, which blamed it on the commander of a breakaway faction.
Some observers are questioning the denial - they suggest it could be a distraction ploy.
In the past the TTP has refrained from claiming some attacks on mosques, schools or markets, preferring to cast its violence as a war with security forces and not against the Pakistani people.
The TTP has been fighting Pakistan's armed forces and police for years, with huge loss of life. An offshoot of the Afghan Taliban, the group shares the same hard-line ideology, but is separate from it.
At the top of a long list of its demands, the Pakistani Taliban wants to impose its interpretation of Sharia law in Pakistan's north-west.
At one point about a decade ago, the TTP threatened to destabilise Pakistan from areas it controlled along the mountainous border with Afghanistan, which has been a hotbed of militant activity for decades.
One of the most high-profile and internationally condemned of all Pakistani Taliban attacks took place in October 2012, when schoolgirl Malala Yousafzai was shot. She had been campaigning for girls' education.
A major military offensive two years later following the Peshawar school massacre - an attack the TTP didn't claim and which killed 141 people, most of them children - greatly reduced the group's influence in Pakistan.
Amid public fury, the army destroyed militant centres and pushed insurgents over the border into Afghanistan. Militant violence inside Pakistan fell.
But in recent years attacks by the TTP and others have been on the rise again in north-west Pakistan.
After the Taliban retook control of Afghanistan in 2021, former Pakistani PM Imran Khan offered militants who had been hiding over the border a chance to return home and settle down - if they laid down their arms.
The militants returned but didn't agree to hand over their weapons - and that is where the current problems started. This led to the dialogue begun by Imran Khan breaking down.
The new political and military leaders who came in after he was ousted last year didn't agree with the militants' demands and stopped talking to the Pakistani Taliban. As a result the TTP ended the ceasefire in November and resumed attacks.
Ashraf Ali, who runs a blood donation organisation, said people in Peshawar were living in fear.
"I, along with my family and all the citizens, are in deep trauma. People are scared here," he told the BBC.
"Everyone is worried about what is going to happen next because it was a long journey from terrorism to tourism in Peshawar and now again Peshawar has been badly affected with terrorism."
Pakistan says its forces are ready to take on the militants. But the police remain ill-equipped to fight the highly trained and well-armed insurgents. Recent militant attacks include overrunning police stations - in some cases police did not offer resistance.
The public want the violence ended once and for all, and experts are now calling for an all-out military operation to beat the militants, as happened in 2014.
But Pakistanis are dejected and critical of the state's attempts to deal with militancy, which has gone on for two decades in a cycle that seems to keep repeating itself.
Many think there are still elements within the Pakistan security and civil establishment who are soft on the militants and that's the reason the threat isn't tackled properly.