Nearly 1mn Rohingya deprived of decent living as repatriation stalled
BI Report || BusinessInsider
Published: 21:36, 23 August 2022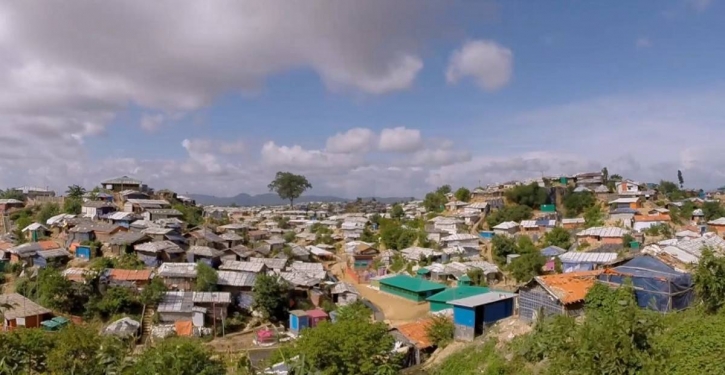 A Rohingya camp in Cox's Bazar. Photo: File
As multiple crises sweep across the world's largest refugee camps in Cox's Bazar of Bangladesh with around 936,733 Rohingya, authorities keep on fighting to provide them basic needs.
These people are completely reliant on humanitarian assistance to meet their everyday requirements.
August 25 will be marked as the fifth anniversary of the massive displacement of people from Rakhine State of Myanmar, who crossed the border and took refuge in Bangladesh.
At the beginning of this humanitarian crisis, the government of Bangladesh had called on the Bangladesh Red Crescent Society to respond to the emergency in line with the Red Crescent's mandate to provide humanitarian services to the refugees. However, the government took multiple efforts to build the Rohingya shelter and provide food.
In response, an international operation was launched in Cox's Bazar with the support of the International Federation of Red Cross and Red Crescent Societies (IFRC) and its RCRC partners, called Population Movement Operation.
In a press statement, Secretary General of Bangladesh Red Crescent, Kazi Shofiqul Azam on Tuesday said that the crisis had already tipped into a complex protracted displacement crisis a while ago. Top priorities must go to long-term solutions, balancing the initiatives in the camps and to the neighbouring host communities.
"We are calling for long-term commitment and resources that are very much needed to address this crisis," Azam said.
Children make up almost 51 percent of the camp population, while women and girls represent almost 52 percent of the sheltered-refugees, he said in the statement.
One in three displaced families has at least one easily identifiable protection vulnerability, such as human trafficking, underage marriage, sexual exploitation and abuse.
Many sustainable initiatives that were implemented at the camp have been lifesaving for the people there such as mid-term shelters or durable housing, solar-powered water supply networks, and disaster mitigation activities.
However, the people there remain completely dependent on humanitarian assistance to meet their daily and longer-term needs, read the statement.
"What you see on the surface in the camps has improved over five years thanks to the work of the government of Bangladesh and multiple national and international partners," said Asia Pacific Regional Director of IFRC, Alexander Matheou.
But below the surface lies heaps of uncertainties over the Rohingya' work or movement, depression, trafficking, and violence.
With no durable solutions in sight, the humanitarian response needs to focus on recreation and protection as much as lifesaving needs, he said.
The situation is further compounded by the fact that Cox's Bazar sits right on the path of cyclones, and hence is constantly subject to seasonal high tide floods, devastating cyclones and heavy rainfall that cause landslides, severe water logging, shelter damages; frequent fire incidents; potential outbreaks of cholera, dengue and diphtheria.
Also due to the sheer number of people there, epidemics such as cholera and Covid are a huge day-to-day threat.
The IFRC Head of Delegation in Bangladesh, Sanjeev Kafley said, "This is one of IFRC's largest, most complex humanitarian support in Bangladesh. For the last five years, the IFRC and many partner National Societies have been supporting Bangladesh Red Crescent in ensuring the protection and extended humanitarian support for the camps."
Considering Covid-19 experience, the IFRC is focusing on institutional preparedness, he said.
The IFRC's strategy of supporting the displaced and host communities in Cox's Bazar includes integrated community resilience, social inclusion and readiness for an effective response till 2024, for now.
Bangladesh Red Crescent, with the support of IFRC and Participating National Societies (PNS), will maintain and look to scale up its efforts to meet the urgent humanitarian needs and keep the hundreds of thousands of families safe through a range of life saving humanitarian assistance including shelter, health, psychological support, wash and livelihood, as well as emergencies and disaster responses.