Bangladesh provides an alternate supply route due to flood damage in Assam
India News Network || BusinessInsider
Published: 11:25, 5 August 2022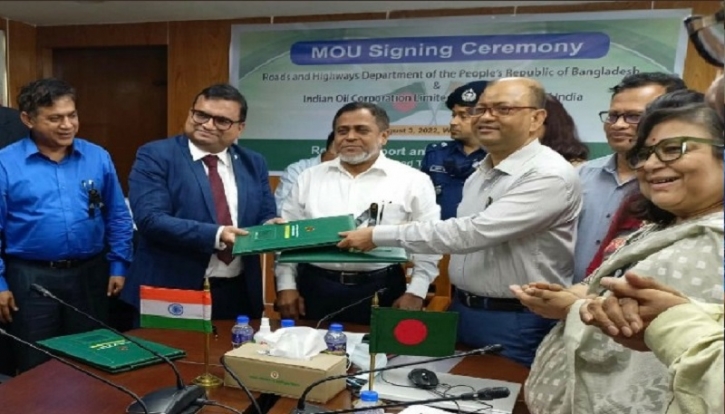 Photo: INN
India Oil Corporation Limited has signed a Memorandum of Understanding (MoU) with Bangladesh's Highways Department to allow Indian vehicles emergency use of roads for the transportation of fuel through their territory.
This will aid the transportation of fuel from Assam to Tripura and Mizoram by road through Bangladesh in view of severe disruptions due to recent floods in the two Indian states.
"MoU signed between @IndianOilcl & Roads & Highways Dept, Govt of Bangladesh for transit movement of Indian Oil's POL & LPG trucks to India's North East Region via Bangladesh.
It will help in uninterrupted supply to Tripura, South Assam & Mizoram , especially during landslides" Union Minister of Petroleum and Natural Gas Hardeep Singh Puri, tweeted on Wednesday.
The official Twitter account of the Ministry of Foreign Affairs of Bangladesh tweeted, "With a spirit of good neighbourhood, the Government of Bangladesh has decided to allow Indian vehicles for transportation of fuel from the Indian State of Assam to Tripura by road which has been severely disrupted due to recent floods in Assam and Tripura. To this effect, an MoU has been signed today."
The oil tankers from Assam would arrive through the state of Meghalaya and pass into Bangladeshi territory on their way to Tripura. For use of Bangladeshi land, the IOCL will pay all administrative costs, fees, and local taxes, including the road usage fee.
The Indian High Commission in Bangladesh wrote a thank you tweet to express gratitude.
The tweet said, "Thank you Bangladesh! MoU b/w @IndianOilcl & Bangladesh Roads & Highways Dept. for emergency supply of India Petroleum Goods via Bangladesh territory. This is an interim set-up, as an urgent alternate supply route due to flood damage in Assam this year."