Sitakunda container depot fire death toll rises to 44
Published: 13:32, 8 June 2022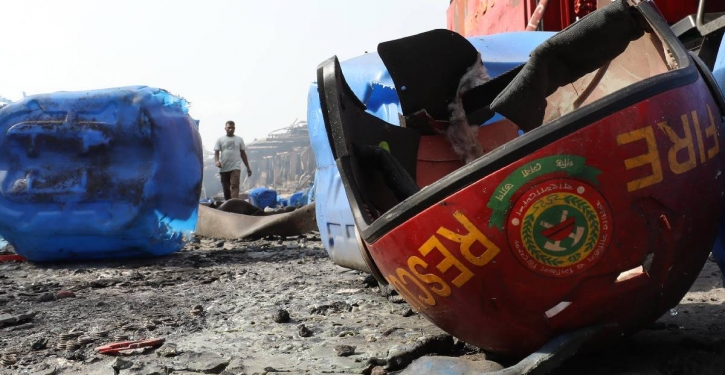 Photo: Collected
The death toll from the massive fire at Chattogram BM Container Depot rose to 44, with a 36-year-old man succumbing to his burn injuries at Chattogram Medical College and Hospital (CMCH) in the early hours of Wednesday.
The deceased was identified as Masud Rana, a worker of the container depot. He was originally from Sarishabari in Jamalpur district.
Masud had been undergoing treatment in the intensive care unit where he succumbed to his injuries in the early hours, said Dr Harunur Rashid of the hospital.
Masud's body will be handed over to his family later in the day, said assistant sub-inspector Alauddin, in-charge of CMCH police outpost.
Meanwhile, the condition of many victims, who sustained burn injuries in the fire, is critical, said deputy commissioner Mominur Rahman.
At least 41 people, including nine firefighters, were killed as the fire broke out at BM Container Depot at Sitakunda in Chattogram on Saturday night. Explosions also occurred at the depot during the fire.
The fire and subsequent blasts at the container depot left over 200 people wounded. Around 130 people are currently undergoing treatment at the burn unit of CMCH, said Anisur Rahman, deputy director of Fire Service and Civil Defense.
Earlier, on Tuesday noon, the firefighters recovered two bodies from the debris, taking the death toll to 43.
The deadly fire at BM Container Depot was brought under control after over 72 hours on Tuesday. The firefighters are still working at the depot tirelessly to douse the flames as smoke was seen billowing from the depot on Tuesday night.
However, what caused the fire could not be known immediately. Already three probe teams have been formed to ascertain the exact cause of the fire.