Dhaka committee celebrates 55th ASEAN Day
Published: 18:36, 8 August 2022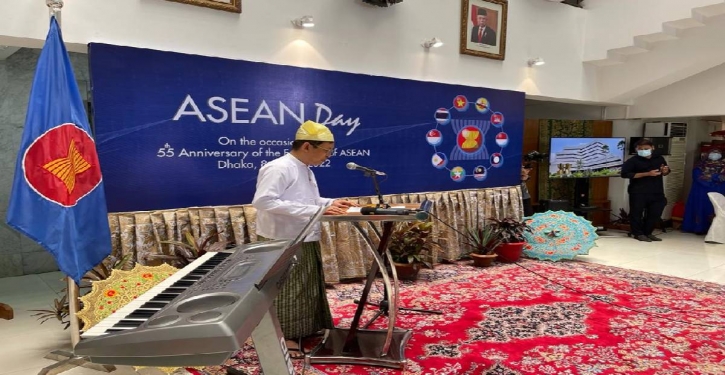 Photo: Collected
ASEAN Dhaka Committee (ADC) on Monday celebrated the 55th anniversary of the founding of the Association of Southeast Asian Nations (ASEAN) at the Embassy of the Republic of Indonesia.
Foreign Minister Dr AK Momen joined the event as the chief guest by delivering a pre-recorded video speech.
Haji Haris Haji Othman, High Commissioner of Brunei Darussalam; Heru Hartanto Subolo, Ambassador of the Republic of Indonesia; Haznah Md Hashim, High Commissioner of Malaysia; Aung Kyaw Moe, Ambassador of the Republic of the Union of Myanmar; Makawadee Sumitmor, Ambassador of the Kingdom of Thailand; Pham Viet Chien, Ambassador of the Socialist Republic of Vietnam; Sheela Pillai, Head of Mission of the Singapore Consulate, Dhaka; Christian Hope V. Reyes, Chargé d'Affaires, a.i of the Republic of the Philippines; Foreign Ministry officials and diplomats from ASEAN Member States were present.
The celebration started with the ASEAN flag raising ceremony followed by ASEAN food festival, which reflects ASEAN unity and harmony based on cultural diversity.
Ambassador Aung Kyaw Moe, the current Chair of ADC, highlighted the achievements of ASEAN throughout the past 55 years since its founding; the activities of ADC; the cordial relations between ASEAN countries and Bangladesh as well as the cruciality of "ASEAN Unity" among the Member States.
The ADC was established in the year 2014 and is comprised of eight ASEAN Missions based in Dhaka.
The ADC chair is rotated every six months and is currently being chaired by the Republic of the Union of Myanmar.
ASEAN was founded on 8 August 1967 through the signing of ASEAN Declaration (Bangkok Declaration) comprises ten Member States, namely Brunei Darussalam, Cambodia, Indonesia, Laos, Malaysia, Myanmar, Philippines, Singapore, Thailand and Vietnam.
The celebration of the 55th ASEAN Day resumed physically after the 54th celebration in 2021 was held virtually due to Covid-19.
This was the first on-site event organised by the ADC after the relaxation of the pandemic preventive measure by the Bangladesh government, highlighting a fresh start to boost the relations between ASEAN and Bangladesh.