ICAB, NGO Affairs Bureau sign MoU on documents verification system
BI Report || BusinessInsider
Published: 19:58, 7 June 2022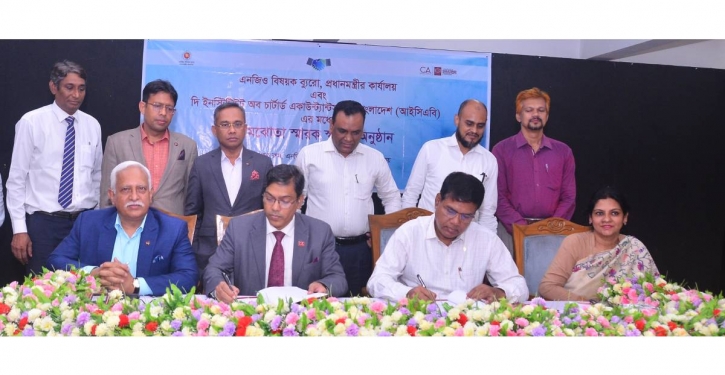 Md Shahadat Hossain, president, ICAB and KM Tariqul Islam, director general (Grade-1) NGO Affairs Bureau, the Prime Minister's Office, signs the MoU Photo: Courtesy
The Institute of Chartered Accountants of Bangladesh (ICAB) and the NGO Affairs Bureau(NGOAB) of the Prime Minister's Office signed a Memorandum of Understanding (MoU) held at the latter's premises on Tuesday.
Under this MoU, the NGO Affairs Bureau will get access to use documents verification system (DVS) for verifying the authenticity of audited financial statements of different NGOs, according to a statement.
Md Shahadat Hossain, president, ICAB and KM Tariqul Islam, director general (Grade-1) NGO Affairs Bureau, the Prime Minister's Office, signed the MoU from their respective sides.
ICAB Vice-President NKA Mobin, Council Member Mohammed Forkan Uddin, NGO Affairs Bureau's Director Ashfaqur Islam Babul, Director Jinat Ara, Deputy Director Md Anwar Hossain, also spoke on the occasion.
ICAB Chief Operating Officer Mahbub Ahmed Siddique FCA, among others, were present on the occasion.
The DVS has already become quite acceptable to the business community and other regulatory bodies. ICAB has similar arrangements with the National Board of Revenue, Financial Reporting Council, Bangladesh Securities and Exchange Commission and Registrar of Joint Stock Companies and Firms.
The ICAB has developed the DVS to authenticate the audited financial statements of different entities. The DVS will make the accounting system more acceptable and reliable.
ICAB introduced this software database document verification system (DVS) from December 1 in 2020 to curb malpractice of producing multiple financial statements and to establish transparency and accountability in the accounting system of the country.