Soaring vegetable prices affect kitchen budgets
BI Report || BusinessInsider
Published: 22:08, 14 January 2022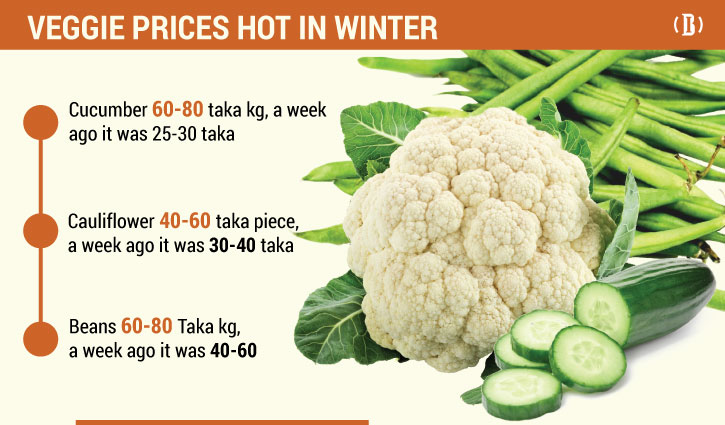 Graphics: Business Insider Bangladesh
Vegetable prices rose significantly in Dhaka's kitchen markets despite being deep into the winter season—a time for vegetables and fruits.
Prices of some green vegetables became double or more in a span of a week. For example, the price of cucumber rose to Tk 60-80 per kg on Friday, up from Tk 25-30 a kg a week ago.
"I was forced to buy one kg of cucumber instead of the usual 2 kg because of the skyrocketing price," said Ashraful Alam, a banker living in the city's Rayer Bazar area.
Another winter season favourite, cauliflower price too saw a spike in a week. It is now being sold at Tk 40-60, rising from an earlier Tk 30-40. The price of beans has gone up to Tk 60-80 from Tk 40-60 in a week.
Kawran Bazar vegetable vendor Mohammad Riaz admitted the prices of all vegetables are higher this year than last year.
Vegetable prices are generally low during the winter season, but this time it has completely reversed, he added, saying, "Last year, I used to sell a big cauliflower for Tk 20 which is now Tk 60."
Regarding the unusually high prices of vegetables this winter, Malek Bhandar, a vegetable wholesaler said the farmers are trying to make up for the losses they incurred last year due to heavy rain in the monsoon season that ruined their produce.
Meanwhile, prices of red tomatoes, carrots, radishes, turnip remain unchanged changed over the week.
Red tomatoes still can be bought for Tk 40 -50. Prices of carrots, carrots, radishes, and turnips remain stable at Tk 30-40.
In addition, yardlong bean is being sold at Tk 50-70, red amaranth at Tk 10-15, radish leaves at Tk 10-15, and spinach at Tk 15-20. The prices of these items also remain unchanged over the week.