World needs journalists more than ever: Mia Seppo
Published: 16:22, 19 September 2021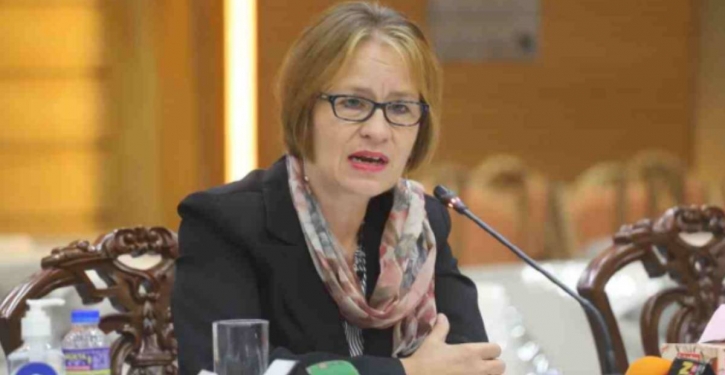 UN Resident Coordinator in Bangladesh Mia Seppo speaks at "DCAB Talk" organised by the Diplomatic Correspondents Association, Bangladesh at the Foreign Service Academy in Dhaka on Sunday. Photo: Collected
UN Resident Coordinator in Bangladesh Mia Seppo on Sunday said the world needs journalists more than ever to bring out truth while effectively dealing with the life-threatening misinformation.
"It's ironic that in a moment with most access to information there's an avalanche of life-threatening misinformation out there," she said.
The UN official said the journalists have the responsibility to bring out truth, spread science-based facts that save lives, protect people and ensure rights. "That's the power of your pen. Use that power as a force for good."
The UN Resident Coordinator was addressing the "DCAB Talk" organised by the Diplomatic Correspondents Association, Bangladesh (DCAB) at the Foreign Service Academy.
DCAB President Pantho Rahaman and its General Secretary AKM Moinuddin also spoke at the "DCAB Talk" where UNRC Mia shared UN views on Rohingya and Afghanistan crises, issues related to Bhasan Char, climate change, sustainable and inclusive Covid recovery, Digital Security Act (DSA), gender issues and cooperation framework.
Mia said reports from journalists can help educate and clarify perceptions; as well as reconcile people and inspire patriotism.
"You possess great potential to reinforce and create conditions that enable a more tolerant, just, peaceful and inclusive coexistence," she said.
Mia laid emphasis on enhancing capacities in conflict-sensitive reporting and play a more active and prominent role in driving media excellence and conflict-sensitive reporting for sustainable peace.
She said there is no development without peace and no peace without development; and sustaining peace is a continuous process.
Mia said national and social cohesion must be sensitively managed to strengthen relationships of trust among Bangladeshis.
She said media's action and reporting can engender either social cohesion or mistrust and divisions among communities and people. "Media reports can give a rise to resentment, suspicion and conspiracy theories."