Health ministry for immediate community engagement to curb Covid-19
Asif Showkat Kallol || BusinessInsider
Published: 20:30, 27 July 2021 Update: 20:32, 27 July 2021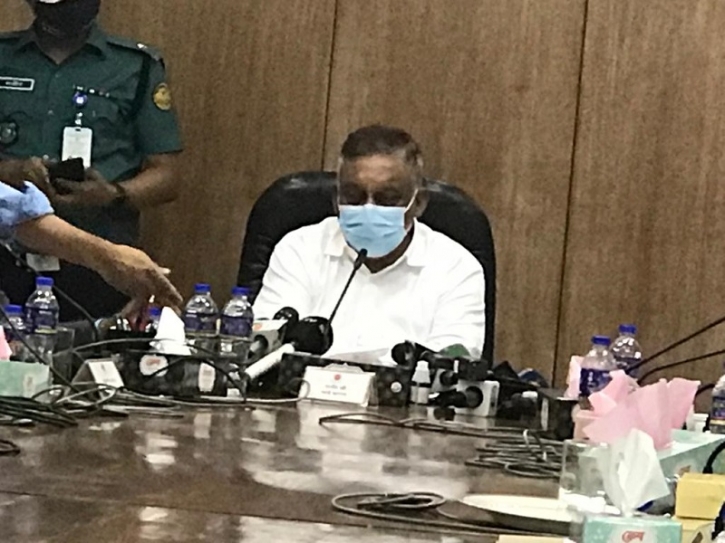 Home Minister Asaduzzaman Khan Kamal presides over an inter-ministerial meeting on Tuesday. Photo: Business Insider Bangladesh
An inter-ministerial meeting on Tuesday, at last, recommended extensive community engagement in maintaining proper lockdown measures to contain widespread infection of Covid-19, across Bangladesh.
The ministry also felt a necessity to review Bangladesh's current Covid-19 situation at the end of the current lockdown for further action.
The Health Ministry's wing IEDCR, presented six-point recommendations including community involvement for containing the spread of the extremely lethal coronavirus at an inter-ministerial meeting at the Cabinet division auditorium on Tuesday. The meeting was presided over by Home Minister Asaduzzaman Khan Kamal.
Covid-19 situation update was presented by IEDCR Director, Prof Dr Tahmina Shirin.
After the temporary relaxing of lockdown in order to allow devotees to celebrate Eid-ul-Azha festival, another spell of 'strict' 14-day lockdown rolled out across Bangladesh on July 23 July.
The lockdown is supposed to end on August 5, respectively.
A member of the national technical advisory committee and former vice-chancellor of BSMMU, Dr Nazrul Islam, said it has been too late to speak about engaging communities for encouraging people to wear masks and avoid get-together.
He said allegations are being made that policemen are taking bribes to allow people to move and keep the shops and hotels open amid stick restrictions.
"Where are political leaders and community committees in various wards and unions? They have not been involved in precautionary activities in the last one year and seven months." he pointed out.
The Health Ministry said five recommendations must strictly be maintained in the lockdown. The authorities concerned will ensure 100% mask-wearing for people coming out of their homes to meet any urgent necessities.
The law and enforcement agencies will also ensure isolation of Covid-19-positive people and make sure about their quarantine with a multi-sectoral effort. It is important, said the ministry, to ensure the supplies of daily needs of the people and that it could be managed locally.