Strict lockdown: What's open, what's closed?
BI Report || BusinessInsider
Published: 20:37, 22 July 2021 Update: 12:32, 23 July 2021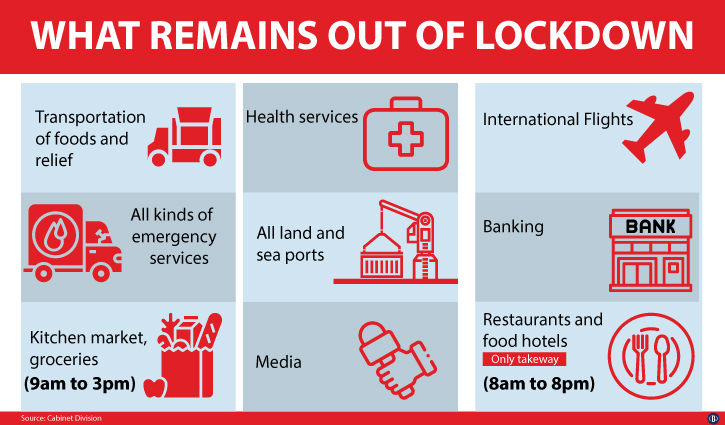 Business Insider Bangladesh image
Bangladesh went for a 14-day 'strict lockdown' from Friday morning in a bid to curb the spread of the coronavirus. The government has taken this decision as the daily Covid-19 deaths hover around 200 and the positivity rate over 32 percent as of Thursday.
Is it that everything will remain shut and people can't go out? The answer is 'yes' for many and 'no' for some cases.
The lockdown restrictions resumed at 6:00am and it will continue until 12:00am on August 5, according to the announcement of the Cabinet Division.
Is it that everything will remain shut and people can't go out? The answer is 'yes' for many and 'no' for some cases.
What's open?
All kinds of emergency services like law enforcement, fire brigade, electricity, water, gas and fuel, media, health care, telecom and internet will remain open and employees of such service providers are allowed to move during the lockdown. They have to show their identity cards if law enforcers want to see.
Banking services will be available for customers for three and a half hours from 10 am to 1:30 pm every working day.
People will be allowed to go to get the vaccine by showing their vaccination cards. Vehicles that are used for carrying emergency products will be permitted. All ports, be it land, air or sea and freight traffic on roads, rail, and waterways will also remain open during the lockdown.
Supply of raw materials, medicine, agricultural goods will be permitted.
Kitchen markets and grocery shops will remain open from 9:00am to 3:00pm for buying daily essential products.
Restaurants and food hotels will remain open from 8:00am to 8:00pm only for (online/takeaway) service.
In emergency cases like buy (medicine, medical treatment, funeral activities) are out of the restrictions.
Though domestic flights will remain suspended during the lockdown international flights will be on.
What's closed?
All sorts of public and private offices, mills, factories including apparel factories will remain shut during this 14-day lockdown.
The export-bound apparel factories were, however, allowed operation in the previous lockdowns.
Besides, transportation on land, water and air will also stay closed.
All markets, shopping malls and community, entertainment centres and tourist spots will also be closed.
Any kind of public gathering, holding meeting, bringing out procession will be prohibited during the lockdown period according to the government announcement in this regard.