All animal waste cleaned, says Mayor Atiqul
Published: 16:01, 22 July 2021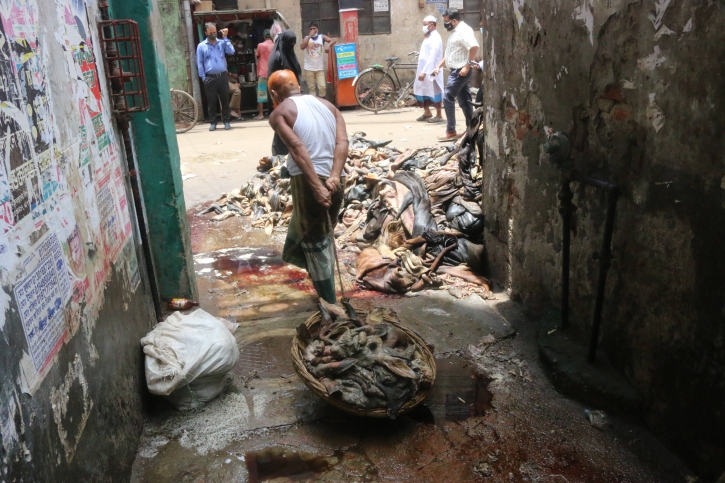 A man piles up parts of sacrificial animals on the street of Lalbagh neighbourhood Wednesday for city cleaners who will take those away.
Dhaka North City Corporation Mayor Atiqul Islam said his workers have successfully cleaned animal waste from across the north city constituencies.
"It was possible to clean sacrificial animal waste from the entire DNCC constituencies in such a short time because of the sincere cooperation of all stakeholders, including the local councilors," he said.
The Mayor said a total of 11,508 workers were engaged in the cleaning process across 54 wards of the 10 regions under DNCC's special cleaning drive.
Muslim devotees of Bangladesh celebrated Eid-ul-Azha Wednesday by saying prayers and slaughtering sacrificial animals across the country.
A control room was set up in Nagar Bhaban of Gulshan to oversee the drive.

The DNCC Mayor said in addition to the control room phone numbers, information about sacrificial animal waste was also obtained via the "Shobar Dhaka" mobile app.
"Some 6,50,000 waste bags, 50 metric tons of bleaching powder and 1,005 cans of Savlon were distributed among the city dwellers on time to ward off any unhealthy environment anywhere in the city," he added.
The Mayor also said everyone's homes and surroundings should be kept clean so that Aedes mosquitoes could not breed and no one dies of dengue or chikungunya during the pandemic.
The DNCC Mayor expressed his firm conviction to build a healthy, vibrant and modern Dhaka through the efforts of all.