ICU bed crisis leads treatment of Covid patients to crucial stage
Asif Showkat Kallol || BusinessInsider
Published: 14:59, 18 July 2021 Update: 15:34, 18 July 2021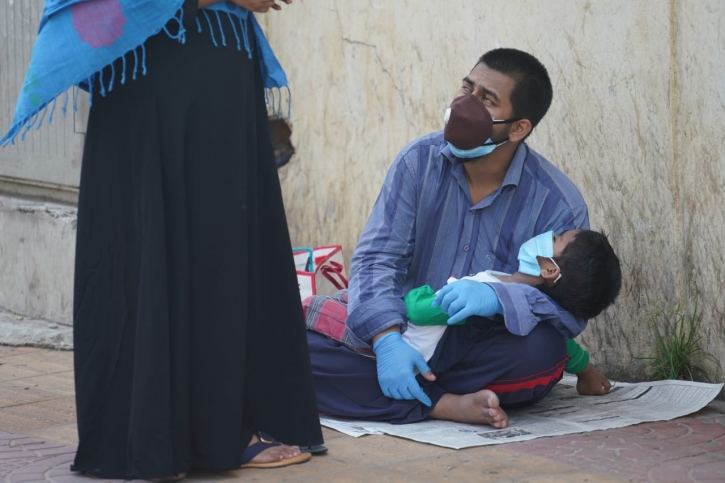 An ailing patient being comforted by his parents near BSMMU Hospital at Shahbag. Photo: Collected
The treatment of Coronavirus patients has reached to a crucial stage now as only 25% of Covid-19 dedicated beds in the public hospitals are vacant, officials of health ministry said.
The number of the infected patients across the country has now been hovering around 29 percent to 31 percent creating a helpless situation for critical patients from across rural areas looking desperately for ICU beds in top government hospitals, guardians said.
Most of the rural Covid-19 patients are unable to go to private hospitals due to high expenses of medical treatment there, officials said.
The procurement of ICU beds and making other arrangements depend on development partners--- World Bank and Asian Development Bank. A lengthy time to offer tender documents and issuing work orders take much longer that make donors unenthusiastic. Health officials said the crisis of ICU beds has been a global phenomenon at this time.
Worsening ICU:
According to the Directorate General of Health Services data, most of the ICU beds in 21 hospitals, both public and private, were almost full on Saturday. Not only that, general ward beds in various medical colleges and hospitals and district hospitals outside Dhaka were also full of patients.
In some cases, data shows, the number of patients undergoing treatment is more than the number of beds. Only 159 ICU beds were vacant out of 878 in public and private hospitals in Dhaka city. In other districts only 286 beds were vacant out of 1291. The Directorate General of Health Services said more than one lakh people got infected in Bangladesh in less than two weeks due to the rapid spread of the Delta variant of coronavirus.
In Dhaka, Covid-19 patients are being treated at 16 public hospitals. Unfortunately, 9 hospitals do not have ICU beds. These are: Kuwait Bangladesh Friendship Hospital, 500-bedded Kurmitola General Hospital, Sheikh Russel Gastro Liver Hospital in Mohakhali, Dhaka Medical College and Hospital, Shaheed Suhrawardy Medical College and Hospital, Infectious Diseases Hospital, National Institute of Kidney Disease and Urology, National Institute of Neuroscience and Hospital and National Heart Disease Research Institute and Foundation Hospital, respectively.
A Dhaka based private TV channel reported on Saturday that a 75-year old Barisal patient with Covid-19 symptoms died after being turned down by Kurmitola General Hospital. He died within 20 minutes in the ambulance when his relatives were trying to find an ICU bed at a private hospital.
Ventilation Project Fails:
A Health Services Division project titled 'Covid-19 Response Emergency Assistance' worth over Tk 1,364 crore was taken to mitigate Covid-19. Unfortunately, the project could not install a single ICU bed until April 2020 out of the proposed 170 ICU beds with ventilation equipment across the country amid the ongoing pandemic.
The poor performance of the project was discussed at a recent inter-ministerial meeting presided over by the health services division secretary, Lokman Hossain Miah. The ADB has provided Tk 850 crore out of the total estimated Tk 1,364.56 crore project cost. The government was supposed to finance the rest.
Health Services Division advertisement however showed that the division spent some Tk 8,000 crore to serve Covid 19 infected patients. They had just set up 100 oxygen lines across the country in the government hospitals with a cost of Tk 300 crore in the last one year. Now the Division is buying coronavirus testing kits with the help of development partners, finance ministry sources.
Former senior finance secretary Mahbub Ahmed told the Business Insider Bangladesh that the health ministry usually does not spend funds on development projects for its major structural scheme.
"The structural problems of that ministry have been there for a long time. That is why they could not spend ADB funds for the Covid-19 Response Emergency Assistance project."
He said the government is taking special programmes to increase efficiency of the health ministry officials and their staffs for speeding up their development projects spendings.
Leading virologist Prof Dr Nazrul Islam, also a Member the National Technical Advisory Committee on Covid-19, told the Business Insider Bangladesh that the health ministry had failed to train the doctors and nurses after setting up ICU beds in different district hospitals.
Prime Minister Sheikh Hasina directed last March to install ICU beds in the district level hospitals but the health ministry could not comply, he observed.
Now due to quick transmission, both physicians and patients have turned into onlookers at various district hospitals, without any effective treatment, said the top Virologist.
Director General of the Health Services Directorate, Abul Bashar Mohammed Khurshid Alam expressed his frustration over local hospitals' failure which is pushing rural Covid-19 patients to Dhaka for treatment.
"We have seen in TV channels and newspapers that people are moving around in cattle markets (Qurbani haats) without any masks and any types of health protection".
He said: "If one lakh people are infected what will we do? There is no mechanism for treating so many people at a time."
Bashar related fire incidents at the high flow oxygen cannula facilities at some hospitals because of lack of knowledge on how to operate those machines.
Without proper training of the doctors and nurses it is not possible to manage ICU beds and high nasal cannula there, he said.