Bangladesh to start Covid-19 vaccine coproduction soon: FM
BI Report || BusinessInsider
Published: 16:21, 10 June 2021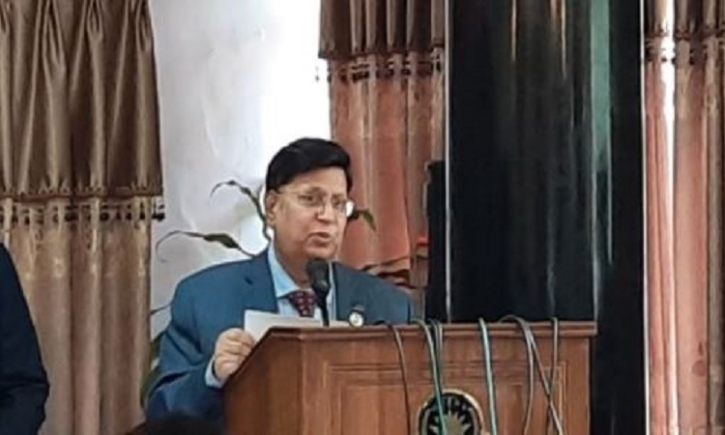 Foreign Minister AK Abdul Momen on Thursday says that a formal announcement will come soon on Covid-19 vaccine coproduction in Bangladesh as there has been progress in the ongoing negotiation.Photo Business Insider Bangladesh
Foreign Minister AK Abdul Momen on Thursday said that a formal announcement will come soon on Covid-19 vaccine coproduction in Bangladesh as there has been progress in the ongoing negotiation.
However, he said it is up to them (vaccine-manufacturing countries) to choose local pharmaceutical companies for the vaccine coproduction in Bangladesh.
"They'll come and see the capacity after necessary inspection and will provide coproduction capacity," he told reporters at the State Guesthouse Padma in Dhaka this noon.
There will be no crisis of vaccine in the country once coproduction begins he said adding, "Hopefully, we'll be able to export the vaccines after meeting domestic demand."
Earlier, the Bangladesh Association of Pharmaceutical Industries (BAPI) donated pharmaceutical products worth Tk 40 lakh to the war-hit people of Palestine for accelerating their treatment.
Abdul Momen handed over the pharmaceutical products to Palestine Ambassador in Bangladesh Yousef SY Ramadan.
While talking to the reporters after handing over the pharmaceutical products to Palestine, Momen said Bangladesh believes in independence of both Palestine and Israel.
Bangladesh wants independence of both the countries based on the demarcation of 1967, Momen said.
"We will not render our support to Israel until Palestine is recognised as an independent and sovereign country," he said.
Besides, while talking to the programme, Yousef SY Ramadan said at present Palestine is passing through the worst time in the history.
He also expressed his all-out gratitude to Bangladesh for such assistance amid the crisis situation.
About AstraZeneca's vaccine, he said the US excluded Bangladesh from its vaccine sharing list, noticing low death and infection rate of the virus in the country.
But, now the situation has changed, he said, adding that it is still unknown when the US will give the vaccine to Bangladesh.
About the vaccine of China's Sinovac, he said Bangladesh expects to get the second consignment of 6 lakh doses of vaccine from China as a gift by June 13.
When asked about the recent dilemma over disclosing the price rate of the Chinese vaccine, Momen said the issue has already been resolved and no misunderstanding has been created in this regard.
"There're many confidentialities in business and we — the government — is just a facilitator. We should abide by laws. We are in a very good position in terms of discussions with China," he added.