Average cost of Covid-19 patient over Tk 5 lakh: TIB
BI Report || BusinessInsider
Published: 16:03, 8 June 2021 Update: 16:16, 8 June 2021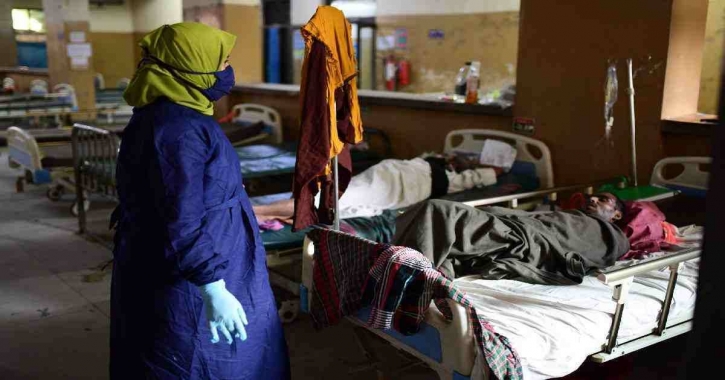 Covid-19 patients are forced to seek expensive treatment in private hospitals due to the ICU crisis in government hospitals. Photo: UNB/File
Covid-19 patients are forced to seek expensive treatment in private hospitals due to the ICU crisis in government hospitals, according to a report of the Transparency International Bangladesh (TIB).
"The average cost of a Covid-19 patient is more than Tk 5 lakh," said the Bangladeshi branch of the Berlin-based Transparency International, a civil society organisation working as an anticorruption watchdog, in its research report published on Tuesday.
Many Covid-dedicated hospitals have been shut down that resulted a massive rise in treatment costs at private hospitals, it said.
There has not been any expansion of medical facilities like ICU, ventilator, etc as planned even after one year of the pandemic, said the TIB. Of the 664 government ICU beds allocated for Covid-19 across the country, 364 are in Dhaka city, 33 in Chittagong city and 256 in the remaining 72 districts, it said.
The plan to install 10 ICU beds in all districts has not been implemented despite budget and equipment, the TIB said.
Many appliances (300 ICU beds, 166 ventilators, 335 high flow nasal cannula) have not been utilised.
The TIB alleged that a business organisation has been given chance to make profit by importing coronavirus vaccine through a non-transparent way.
"Opportunity has been to given to a third party illegally for making profit from public money in importing vaccine," it said.
The TIB said Bangladesh bought vaccines at a higher price ($5) than the countries of European Union ($2.19), India ($2.8), African Union ($3) and Nepal ($4) while Nepal directly procured the vaccine from Serum Institute and Sri Lanka through Government Pharmaceutical Corporation.
Excluding the cost, the third party will make a profit of around Tk 77 for each dose, and based on this the third party will make a profit of Tk 38.37 crore from supplying 50 lakh doses and the total profit from importing three crores doses will be Tk 231 crore, it said.
If the government had brought the vaccine directly from the Seram Institute, the money saved in each dose could have been used to buy 6.8 million vaccines, according to the findings, the TIB said.
The authorities has been forced to depend on a single source in procuring Covid-19 vaccine due to the political influence of a business organisation that deepens the of vaccination crisis in Bangladesh, it said.
Claiming that the government's procurement rules were not followed in procuring the Covid-19 vaccine, the TID said all agreements relating to purchasing the coronavirus vaccine will have to make public for the sake of transparency.
Although various terms of the agreement were reviewed before the vaccine was purchased from Russia, no such review and bargaining was observed in the case of the agreement with the Serum Institute.