Govt urged to allocate 10% of remittance for migrant workers' welfare
Md Owasim Uddin Bhuyan || BusinessInsider
Published: 19:15, 28 May 2021 Update: 19:52, 28 May 2021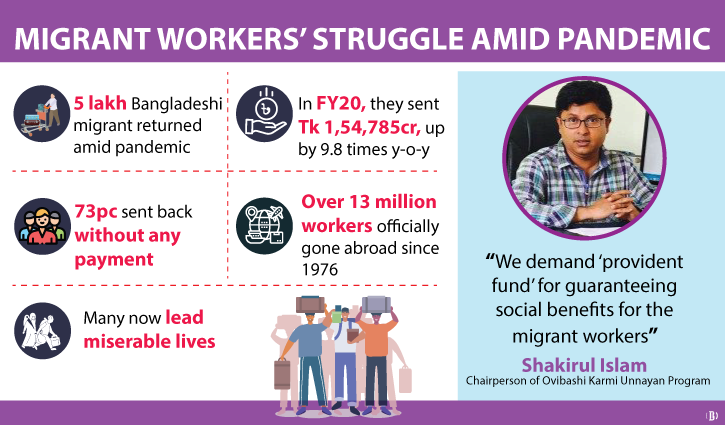 Photo: Business Insider Bangladesh
Ovibashi Karmi Unnayan Program (OKUP), is a community based migrants organization in Bangladesh, has demanded to set aside 10 percent of the inward remittance in the new budget to ensure migrant workers' development and welfare.
Over 13 million migrant workers from Bangladesh have officially gone abroad since 1976 and sent back remittances worth around $235,583 million or Tk 17,37,429 crore, according to the Bureau of Manpower Employment and Training.
There were many other Bangladeshi migrants and diaspora who left the country 'unofficially' and kept sending back remittances to the country, said BMET officials.
The OKUP also demanded to bring the migrant returnees hit hard by the pandemic under the social safety net programme.
It has been holding "Ovibashir Budget" conference since 2014, demanding to increase migrants' budget every year.
"I demand to start 'Provident Fund' for guaranteeing social benefits of the migrant workers for their protections in the new budget," OKUP Chairman Shakirul Islam told Business Insider Bangladesh.
He also said the existing incentives on remittances should be raised from 2 percent to 5 percent.
In the Covid-affected fiscal year (2019-20), remittances to migrant workers in Bangladesh amounted to Tk 1,54,785 crore (USD 18.21 billion), which is 9.8 times higher than the previous fiscal year, according to the OKUP.
Remittances sent by migrant workers are contributing to the overall development of the country which has made Bangladesh a model of development in the world by making commendable transitions in various social and financial indicators, it said.
Compared to the migrant workers' contribution to the country, the government's endeavours for the protection and welfare of migrant workers are, unfortunately, not enough, the organisation said. "The allocation for the development of migrant workers was regrettably below 1 percent in the previous fiscal years," said the group.
Due to the unsafe and opaque recruitment process, many migrant workers do not get the promised job and salary and are subject to labour rights violations. Many women migrant workers return to the country after being subjected to various forms of physical and mental abuse.
Most of the migrant workers cannot get the necessary treatment due to a lack of money. Many returning migrant workers lead miserable lives socially and economically being unable to repay their loans taken for migration or start a new livelihood back home.
"During the Covid-19 pandemic, already, more than five lakh Bangladeshi migrant workers returned home after losing their jobs. Of those migrant workers who were forced to return due to the corona pandemic, about 73 percent were sent back without any payment," said the OKUP.