Padma Bridge safety, security to be maintained for a century: Cabinet secy
BI Report || BusinessInsider
Published: 17:01, 3 July 2022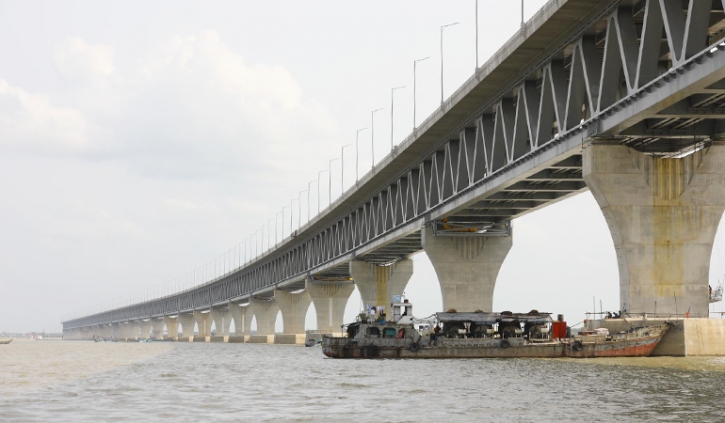 A view of Padma Bridge. Photo: File
Cabinet Secretary Khandker Anwarul Islam has said safety and security of the Padma Bridge will be guaranteed for the next 100 years with everyone's cooperation.
"There is no scope to walk along the Padma Bridge. Walking is prohibited," cabinet secretary told reporters at a briefing following a virtual cabinet meeting presided over by Prime Minister Sheikh Hasina.
"We have tried to understand that the bridge is a double-deck one, there is no scope of walking and hanging around on the Padma Bridge," the secretary said.
However, he said, there is space which is, in fact, a service lane for the railway tracks at the bottom tier of the bridge.
Those who will work for the railway bridge for maintenance, will do it from the service lane, he pointed out.
A day ago security forces including members of the armed forces arrested a few people who were roaming around on the Padma Bridge. The rule of out-of-boundary is being followed strictly to maintain security of the bridge, Anwarul said.
The secretary said, "Myself and most of the consultants of the Padma Bridge visited Kuwait's latest 16-kilometer bridge over the sea there to gather first-hand experience about the latest technology and maintenance of a bridge."
He said Bangladesh has built a wall for protection of cars which move on the Padma Bridge but the Kuwait government uses grills for vehicular protection, he added.
The secretary said Padma Bridge is being maintained with the latest technology and facilities ensured by the Korean Express Corporation.
He also said the world's top bridge maintenance company Korea Express Corporation will carry out a post-construction audit on the Padma Bridge to find any faults.