Bangladesh in world media this week
BI Desk || BusinessInsider
Published: 17:29, 27 May 2022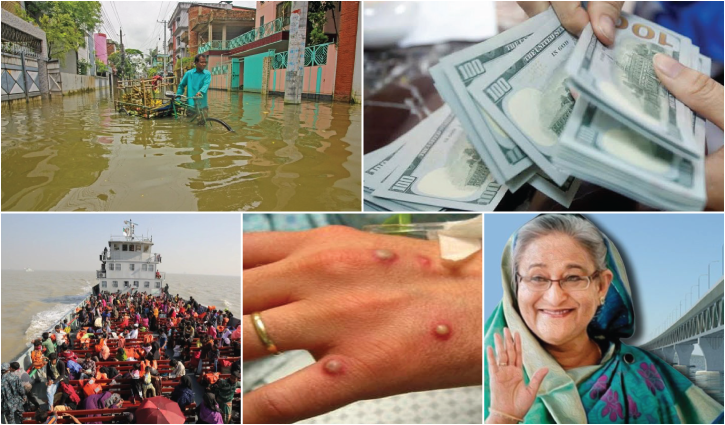 Collage: Business Insider Bangladesh
Several major international media outlets in the outgoing week featured stories on the flood that is creating havoc in Bangladesh. Many global leaders also expressed their concern and condolence over the flood situation and its victims.
Following is a pick of five stories on Bangladesh that made headlines on international media in the outgoing week (May 21 to May 27). The stories are sorted according to their merits.
Two million stranded as worst floods in decades hit Bangladesh's northeast
Rivers in Bangladesh have burst their banks and caused the worst floods in the country's northeast for nearly two decades, with about two million people marooned by rising waters, AFP reported on May 21.
Floodwater rushing from India's northeast breached a major embankment on the Barak River, inundating at least 100 villages at Zakiganj in Bangladesh, said Mosharraf Hossain, the chief government administrator of the Sylhet region.
Many parts of Bangladesh are prone to flooding, and experts say that climate change is increasing the likelihood of extreme weather events around the world.
Every extra degree of global warming increases the amount of water in the atmosphere by about seven percent, with inevitable effects on rainfall.
People were seen fishing on submerged roads and some residents took their cattle to flood shelters.
Floodwater has entered many parts of Sylhet city, the largest in the northeast, where another official told AFP about 50,000 families had been without power for days.
Hossain, the chief administrator, said the flooding was driven by both rains and the onrush of water from across the border in the Indian state of Assam.
But officials said the broken embankment on the border at Zakiganj could only be fixed once the water level dropped.
Bangladesh relaxes rules to boost remittance inflow, forex reserves
In its bid to boost shrinking forex reserves, the central bank of Bangladesh has relaxed rules to woo more remittances from millions of Bangladeshis living and working abroad, reported Xinhua on May 23.
The Bangladesh Bank Monday issued a circular, saying non-resident Bangladeshis will not require presenting documents while sending over 5,000 US dollars in remittance in order to qualify for the 2.5 percent cash incentive given by the government.
This relaxation will remain in effect until further notice, the circular added.
The Bangladeshi government in January increased the cash incentive on the remittance exchange rate to 2.5 percent from the previous 2 percent to encourage migrants to use proper channels to send money home.
The government's latest decision on incentive came as the remittance inflows have been falling in the recent months.
In order to boost shrinking forex reserves, the Bangladeshi government last week restricted foreign trips of its officials under operating and development budgets.
The country's Ministry of Finance said in a notification that all types of foreign trips, including exposure visits, study tours, workshops and seminars for all government officials will be stopped until further notice in a bid to reduce the pressure on the country's forex reserve.
The move came a day after the central bank of Bangladesh toughened its rules for luxury and non-essential imports like sports utility vehicles, washing machines, air conditioners and refrigerators.
All the latest moves are expected to support Bangladesh's foreign currency reserves, which recently have come down to less than 42 billion dollars, still enough to cover the country's five-month import bills.
More support for Rohingya on Bangladesh island
The UN refugee agency chief has agreed to boost support to Rohingya refugees relocated to a remote and flood-prone island in Bangladesh, despite concerns people were moved there against their will, reported Al Jazeera on May 24.
Speaking to reporters in Dhaka on Wednesday, UN High Commissioner for Refugees Filippo Grandi promised to "step up our presence" on the island.
Bangladesh aims to eventually relocate around 100,000 Rohingya refugees to the previously uninhabited Bhashan Char to ease overcrowding in the sprawling network of refugee camps near Cox's Bazar.
Around 920,000 members of the stateless Muslim minority are currently packed into squalid border camps there, reliant on aid after they fled violence and a 2017 military crackdown in neighbouring Myanmar.
UNHCR signed a deal last year with Bangladesh authorities to help aid and protect refugees on Bhashan Char, where about 20,000 refugees have already been shifted.
But with only 13 percent of the UN refugee agency's $881 million annual response plan for the Rohingya currently funded, Grandi acknowledged it would be a struggle.
Bangladesh declares health alert amid monkeypox outbreak
The Bangladeshi government has declared a health alert amid the outbreak of the monkeypox virus in some parts of the world, although no cases have been reported in the country, Xinhua reported on May 22.
"No monkeypox case has been reported in Bangladesh yet, but we've made the declaration in order to check any eventuality," the official from the health ministry told Xinhua.
The official, who didn't like to give his name, explained that initial measures will involve monkeypox screening of all incoming passengers from countries where cases have been detected.
Monkeypox is a sylvatic zoonosis with incidental human infections that usually occur in forested parts of Central and West Africa. It is caused by the monkeypox virus, which belongs to the orthopoxvirus family, the World Health Organization (WHO) said.
The WHO issued an alert Wednesday night warning that more cases of the monkeypox virus could be reported in Britain.
Bangladesh PM Sheikh Hasina to inaugurate Padma bridge on June 25
"Bangladesh's largest Padma bridge will open to traffic on June 25," announced road, transport, and bridges Minister Obaidul Quader after meeting Prime Minister Sheikh Hasina in Dhaka, reports Zee News on May 25.
"Our Prime Minister Sheikh Hasina will inaugurate the bridge on June 25 morning in a grand ceremony," he said. The Bangladesh government has already fixed the toll rates of the bridge. According to a gazette notification, toll rates will range from 100 takas to over 6,000 takas.
The huge infrastructure project, with the main bridge spanning 6.15 km in length, is the largest and most challenging in Bangladesh's history. The bridge standing across the Padma River to link the northeastern and southwestern areas of Bangladesh is also a key part of an anticipated trans-Asian railway network.
Hasina inaugurated the main construction work of the bridge in 2015. The Padma multipurpose bridge is located about 40 km southwest of Dhaka.
The Padma Bridge is a multipurpose road-rail bridge across the Padma River to be constructed in Bangladesh.
When completed it will be the largest bridge in Bangladesh and the first fixed river crossing for road traffic.
It will connect Louhajong, Munshiganj to Shariatpur and Madaripur, linking the southwest of the country, to northern and eastern regions.