Khaleda should be sent to prison again: Hasan
BI Desk || BusinessInsider
Published: 20:41, 26 May 2022 Update: 20:41, 26 May 2022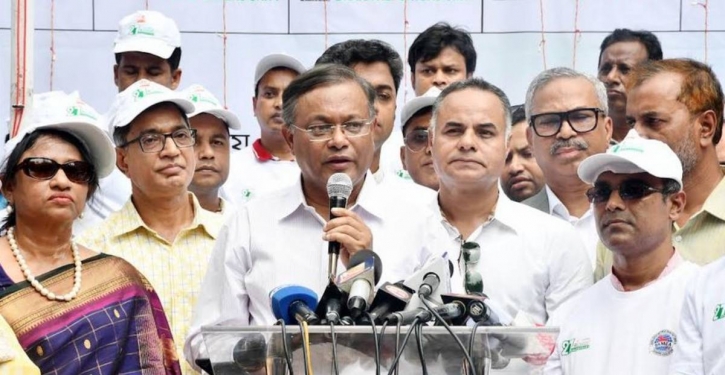 Photo: Collected
Information and Broadcasting Minister Dr Hasan Mahmud on Thursday said the people think that Begum Khaleda Zia should be sent back to prison again as her party BNP did not realise the generosity of Prime Minister Sheikh Hasina.
"I saw a post on Facebook that BNP leaders including Begum Khaleda Zia and Mirza Fakhrul Islam Alamgir are crossing the Padma river by swimming. It is meaning that many people think they (BNP) should cross the river by swimming not through the bridge as they opposed and conspired to construct the bridge and they had tall talks that the Awami League government couldn't construct it," he said.
The minister told reporters after addressing a function of Dhaka Reporters Unity (DRU) marking its 27th founding anniversary in the city's Segunbagicha area, reports Bangladesh Sangbad Sangstha.
Hasan said Bangabandhu's daughter Prime Minister Sheikh Hasina has constructed the bridge for all the people. But, the persons, who opposed the bridge, should seek apology, he added.
He said the BNP is staging protest rallies today. But, Begum Khaleda Zia had tried to kill the prime minister and the August 21 grenade attack proved it, he added.
He said the premier has shown her unprecedented generosity to Begum Khaleda Zia by extending her release from jail for two years in spite of being a convicted accused. But now, many are raising questions as to why the premier is showing generosity to those who don't know how to value kindness, he added.
Therefore, Begum Khaleda Zia should be sent back to jail again, said Hasan, also Awami League joint general secretary.
Earlier, the minister and the DRU president inaugurated the function of the organisation through hoisting national and DRU flags respectively. Later, Hasan joined the rally after releasing pigeons and balloons.
Jatiya Press Club President Farida Yesmin and others addressed the inaugural function with DRU president Nazrul Islam Mithu in the chair. DRU general secretary Nurul Islam Hasib conducted the function.
Hasan said the DRU has remained united in the way of its 27 years journey, stayed away from politics and it was not divided politically which is a great success of the organisation.
The minister hoped that the DRU would remain united in the next 50-years also.
He said the state and the society would be flourished and benefitted if the fourth pillar of a state mass media works properly. For this, Prime Minister Sheikh Hasina has taken different steps for development of the mass media, he added.
The minister said a vast revolution has taken place in the mass media in the last 13 years. About 38 television channels are on air while the number was only 10 before 13 years ago, he added.
He said currently there are about 12 FM radios and 18 community radios are on air and the number of newspapers is about 1,200. The government is working for the betterment of the mass media.
Hasan said, "I'm always beside you."