Destiny MD Rafiqul Amin sentenced to 12 years in jail
BI Report || BusinessInsider
Published: 12:37, 12 May 2022 Update: 22:32, 12 May 2022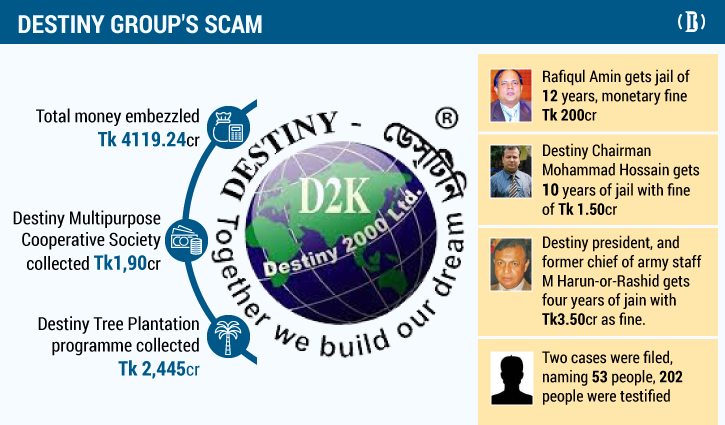 Graphics: Business Insider Bangladesh
Controversial Destiny Group's Managing Director Rafiqul Amin and 46 others have been given different years of sentences for laundering money they collected from lakhs of customers in the name of cooperatives.
Sheikh Nazmul Alam, judge of Dhaka Special Judges Court-4, announced the verdict on Thursday.
Two separate cases were filed against Destiny Group officials with Kalabagan Police Station on July 31 in 2012 for embezzling and laundering money from the investors in the name of Destiny Multipurpose Cooperative Society and Destiny Tree Plantations Limited.
According to the statements of the two cases, a total of Tk 4,119.24 crore was embezzled and laundered.
On May 4 in 2014, after two years of investigation, the Anti-Corruption Commission (ACC) filed a charge-sheet against 19 people, including Rafiqul Amin, in a case (tree plantation).
In the other case (Multipurpose Cooperative Society) charges were filed against 46 people.
The number of accused in both the cases is 53, while Rafiqul is named in both the cases.
According to the ACC investigation, Destiny Multipurpose Cooperative Society collected Tk 1,901 crore from the investors and Tk 1861.45 crore was embezzled.
Due to the embezzlement, nearly 8.5 lakh investors suffered losses.
As per the tree plantation case statement, a total of Tk 2,445 crore was collected from the investors through the Destiny Tree Plantation, and over Tk 2,257.78 crore was embezzled, which incurred losses for around 17.5 lakh investors.
According to the case statements, Tk 56.19 crore was laundered as letter of credit (LC) and $2.6 lakh was directly smuggled.
Mir Ahmed Ali, public prosecutor of ACC, told media that the tree plantation case is under trial at the same court.