Post-pandemic school dropout rate among RMG workers' children alarming: SANEM
BI Report || BusinessInsider
Published: 19:04, 16 March 2022 Update: 20:02, 16 March 2022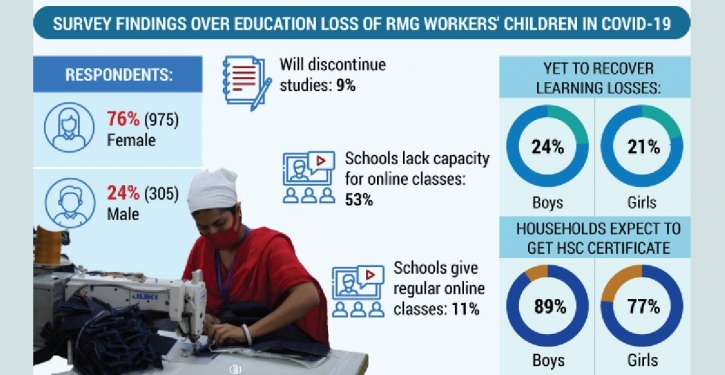 Business Insider Graphics
Almost one-tenth of ready-made garment workers' children are not going back to school when the schools reopen after the coronavirus pandemic.
The reasons for dropouts include inability to bear educational costs or the children got involved in economic activities during the pandemic and are not in a position to return to their studies after the pandemic.
The information came out in a survey conducted by the South Asian Network for Economic Modeling (SANEM) between January 13 and 23, in collaboration with Microfinance Opportunities (MFO), to get an idea about the school dropout rate among the children of the ready-made garments (RMG) workers and other challenges they faced during the Covid-19 pandemic.
Among the 1,280 surveyed respondents, 76% (975) workers were female and 24% (305) workers were male.
In Bangladesh, the lockdowns and school closures during the Covid-19 pandemic affected 36.5 million students, and had far-reaching impacts such as learning loss, school dropouts, and even child labour or child marriage.
In January 2022, as a part of the Garment Worker Diaries (GWD) project, the RMG workers were surveyed regarding the education of children in their households.
Just over half (56 percent) of the garment workers participating in the project have one or more children under the age of 19 living in their household.
During the pandemic in Bangladesh, many schools and educational institutes arranged online classes through apps/software. Around 11 percent of households reported that the school gives regular online classes; 26 percent reported that schools give online classes but not frequently, and more than half of the households (53 percent) responded that the schools do not give online classes at all.
Furthermore, the quality of the online classes has been reportedly low. In the survey, 31% of respondents with children attending online classes described those classes as either not at all effective or ineffective. Only 18% found it effective or very effective and the other half of the respondents (52%) expressed uncertainty about the effectiveness.
However, according to the respondents, 24% of boys and 21% of girls have not yet recovered from their learning losses.
Besides, around 89 percent of households with boys expected their boys to at least gain their higher secondary school certificate, 77% of households with girls expected their girls to do so. Interestingly, parental expectations for girls and boys reaching post-graduate education are almost the same: 37% for boys and 35% in case of girls.