Bangladesh in world media last week
BI Desk || BusinessInsider
Published: 15:23, 14 January 2022 Update: 17:32, 14 January 2022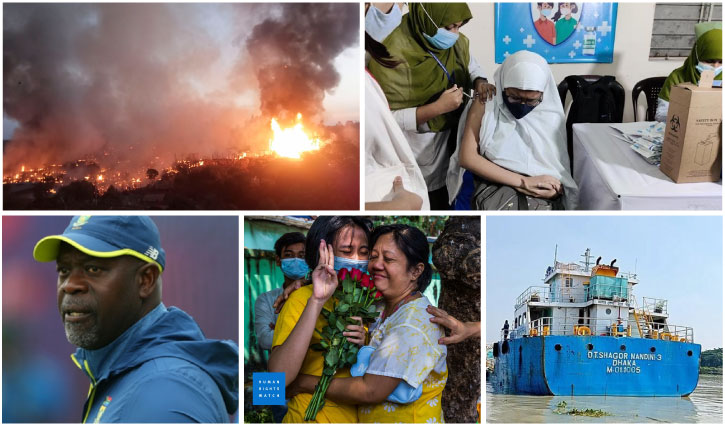 Photos: Collected
In the second week (January 8 to 13) of the new year, Bangladesh was featured on many news outlets. Back to back fire incidents at Rohingya camps and the resurgence of Covid-19 in Bangladesh were the two major topics that caught the attention of international media in the outgoing week.
Here is a prick of five stories on Bangladesh that made headlines on international media:
Fire tears through Rohingya refugee camp in southern Bangladesh
On January 9, Reuters reported on the fire that swept through a Rohingya refugee camp in southern Bangladesh, destroying hundreds of homes, according to officials and witnesses, though there were no immediate reports of casualties.
The blaze hit Camp 16 in Cox's Bazar, a border district where than a million Rohingya refugees live, with most having fled a military-led crackdown in Myanmar in 2017.
Mohammed Shamsud Douza, a Bangladesh government official in charge of refugees, said emergency workers were trying to bring the fire under control. The cause of the blaze has not been established, he added.
A devastating fire last March at Balukhali in Cox's Bazar, the world's largest refugee camp, killed at least 15 refugees and burned down more than 10,000 shanties.
Bangladesh makes Covid-19 vaccine mandatory for school participation
Amid a sharp rise in coronavirus infections, Bangladesh on Sunday (January 9) made Covid-19 vaccination mandatory for students attending in-person classes on campuses, reported Anadolu Agency of Turkey.
In a notification on Sunday, the Directorate of Secondary and Higher Education directed educational institutions to ensure the vaccination of students aged above 12 years, saying none would be allowed to take part in classes in schools and colleges after Jan. 15 without first being vaccinated.
Meanwhile, Covid-19 infections rose by 115 percent in the country in the span of a week, while the death rate rose by 15 percent according to the Directorate General of Health Services (DGHS).
Another 6,300 cases were recorded in the last week as of Saturday, while the number was 3,336 in the previous week, DGHS spokesman Nazmul Islam told reporters.
China to supply nearly 40% of Bangladesh's petroleum imports
Radio Free Asia on January 12 reported that nearly 40 percent of Bangladesh's petroleum imports for the next six months will come from suppliers in China, officials said Wednesday, confirming a $1 billion deal by Dhaka to buy oil from several countries, including Indonesia, Malaysia and Thailand.
"Bangladesh is a fuel importing country. We import both refined diesel, jet fuel, gasoline and crude petroleum," ABM Azad, chairman of the Bangladesh Petroleum Corp. (BPC), told BenarNews, an RFA-affiliated online news service.
Included are deals with China's UNIPEC ($266 million) and with PetroChina ($113 million). UNIPEC is to supply 400,000 metric tons of refined diesel, gasoline and jet fuel, while PetroChina is to supply 170,000 metric tons of the same refined fuels.
In the other countries, PTTT of Thailand, ENOC of the United Arab Emirates, BSP of Indonesia and PTLCL of Malaysia have been contracted to supply fuels to Bangladesh valued at $621 million, according to a copy of the proposal from the Bangladesh Petroleum Corp. obtained by BenarNews.
Azad said Bangladesh also buys crude oil from Saudi Arabia and the UAE to be processed at the Eastern Refinery in Chittagong.
"But this refinery cannot meet our annual demand," Azad said, noting that the nation could refine about 1.3 million metric tons of crude oil – well below the annual demand of at least 6.2 metric tons.
"So, we have to import refined fuel from different countries," Azad said.
Bangladesh: Grave rights concerns dismissed
Human Rights Watch issued its "World Report 2022" on January 13. In the report HRW said, the ruling Awami League government made clear in 2021 it has no intention of addressing a pattern of grave abuses, including extrajudicial killings, torture, and enforced disappearances by its security forces.
Authorities cracked down on critics, journalists, and even children who criticized the government or dared to question its response to the Covid-19 pandemic.
In September, Mohib Ullah, 46, a leader among the nearly one million Rohingya refugees in Bangladesh documenting the Myanmar military's crimes against the Rohingya and advocating for the refugees' rights in international forums, was shot and killed by unidentified gunmen in Kutupalong camp in Cox's Bazar. He had faced death threats in recent years for his work
In October, the government signed a Memorandum of Understanding with UNHCR to begin operations on Bhasan Char, where Bangladesh authorities had already relocated almost 20,000 refugees in violation of its commitments to wait for a technical assessment of habitability, safety, sustainability, and protection needs.
From May to August, Bangladesh saw its most deadly wave of Covid-19 infections to date. Hospitals were overwhelmed and health care workers reported a lack of adequate medical equipment.
In October, four people died when police reportedly opened fire to contain a mob, and at least three more people died amid a spate of sectarian violence targeting Bangladesh's Hindu minority. More than 100 are reported injured.
Ottis Gibson quits as Bangladesh fast-bowling coach
Ottis Gibson has decided not to renew his contract as Bangladesh's fast-bowling coach, reported ESPNcricinfo.
The 52-year-old, who completed his two-year contract with the BCB this month, is set to join the Pakistan Super League (PSL) side Multan Sultans from the start of their campaign on January 27.
"Ottis Gibson didn't want to renew his contract which we accepted," Jalal Yunus, BCB's cricket operations committee chairman, told ESPNcricinfo. "Local coaches will look after the fast-bowling department temporarily. We hope to replace Gibson with another foreign coach shortly."
Gibson, a former West Indies quick, joined the Bangladesh team in January 2020, replacing Charl Langeveldt. After initially working with some of the bowlers in Dhaka, he had to stay in touch with them only virtually due to the Covid-19 pandemic.