Bangladesh watches Narayanganj city polls amid belligerent political family-feuds
HM Al Imran Khan || BusinessInsider
Published: 14:04, 14 January 2022 Update: 16:43, 14 January 2022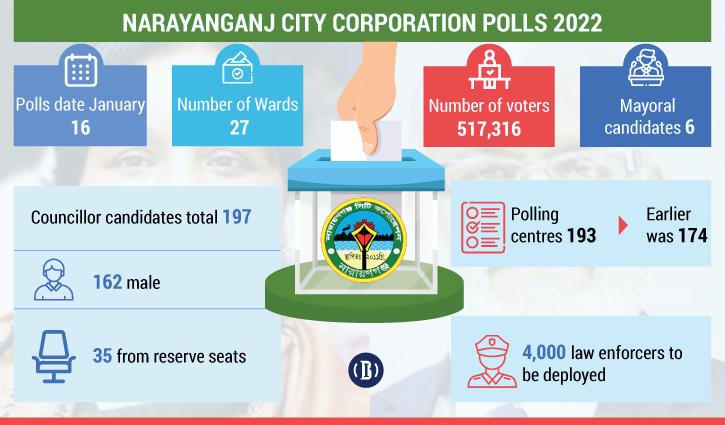 Business Insider Bangladesh Infograph
Historic city Narayanganj is holding its third mayoral polls on Sunday.
Once known as the Dundee of the East for its large number of jute mills, Narayanganj is one of the leading river ports and important business hubs of the country.
Influential people live here with prestige, money and legacies.
This time, around 517,316 voters cast their franchise in the city corporation elections to elect a mayor and 27 ward councilors.
Six candidates are contesting for mayoral posts while 162 councillors and 35 women councillors from the reserved seats will also contest the polls.
Earlier in 2016, Awami League-backed candidate Selina Hayat Ivy won the NCC polls. Ivy also won the maiden election to the NCC held in 2011 and was elected mayor for the city corporation.
Why is the Narayanganj City Corporation election important?
Multiple factors have come to the forefront while talking about much hyped Narayanganj City Corporation polls. Narayanganj polls have been the talk of the town primarily for political reasons. The major factors that have made these polls the nation's centre-point include political disputes and stark rivalries, geographical advantages and political and social legacies.
Industrial importance
First of all, Narayanganj is mostly known for its industrial importance in the country. Being the city by the Shitalakshya River and with developed communications, it evolved as a prime business hub. The city also inherits historic fabrics, jute mills and knit industries.
Currently, the city contributes to the national economy on a large scale, generates thousands of employment and ships billion-dollar-worth of products, mainly apparels. Its natural features and geographical location has made it a vital centre for major trades and industries, including knitwear, readymade garments (RMGs), and textiles.
Political importance
Political supremacy is the apple of discord here. The city offers several advantages to the political parties including Awami League, BNP, Jatiya Party and others.
Being close to the capital, it is considered almost a part of Dhaka. Therefore, political leaders and activists can smoothly attend political events held in Dhaka and vice versa.
the activists can show-off, it strengthens any political rallies, conferences and public meetings. In fact, it is one of the indicators of demonstrating party popularity to the countrymen. Under these circumstances, Narayanganj enjoys potential for any political parties to contest races.
Awami League is leading the city for--- among others--- its juggernaut leaders like Shamim Osman, who is an incumbent parliamentarian of Narayanganj 4 constituency.
At the same time, Dr Selina Hayat Ivy is the successive mayor of the city. A daughter of Ali Ahmed Chunka, Ivy also belongs to a family close to the ruling Awami League hierarchy.
Shamim Osman's younger brother Salim Osman is also a parliamentarian nominated by Jatiya Party. He succeeded the constituency following his deceased elder brother, Nasim Osman.
Former BNP leader Taimur Alam Khandaker is also a notable figure in the local politics of Narayanganj. He was relieved from all his associations with the Bangladesh Nationalist Party as he chose to contest the election, ignoring his party's stance.
Political Legacy
The political legacy of Narayanganj is interesting. Two factions of the AL are now active---one is led by Shamim Osman (also known as Osman family) and the other one is led by Dr Selina Hayat Ivy.
Shamim Osman is the son of AKM Samsuzzoha, a former Awami League politician and parliamentarian. On the other part, Ivy is the daughter of Ali Ahmed Chunka, another Awami League politician.
Both Samsuzzoha and Chunka had some political feuds which the families still are inheriting. As part of the competition, the families are always engaged in conflicts.
long rivalry between Ivy and Shamim grabbed headlines several times before. And, this time around, the discord surfaced precisely again, centring the mayoral elections.
Prime Minister Sheikh Hasina directed Awami League leaders and activists in Narayanganj to lend their support for Ivy in the ensuing city elections. But Shamim Osman was silent and did not publicly lean towards Ivy. It was then rumors spread that he was covertly backing independent mayor candidate Taimur Alam Khandaker.
However, later he extended his support to the "Boat" symbol instead of supporting Ivy.
Speaking at a press conference on Tuesday, he said, "It doesn't matter who the candidate is in the election. It's the Boat (symbol of Awami League) that matters. Boat belongs to Bangabandhu's and we all stand by it."
it was a violation of the election code of conduct because a lawmaker cannot participate in electioneering, directly.
Alternatively, Selina Hayat Ivy is also delivering speeches pinching Shamim Osman for not backing her tangibly.
Recently, during an electioneering campaign, she said she did not brand Shamim Osman as godfather; rather it has been his title for the past three decades.
According to media reports, Shamim Osman is supporting independent mayoral candidate Taimur. However, he denied the claim.
Taimur, a former BNP leader, also said he is contesting independently. Since he was stripped of his political post by the BNP, he is now free to act on his own.
BNP did not have any candidates for the NCC mayoral election this year. The party also remained inactive in the 2016 election. So did Taimur Alam Khandaker.
Now, Taimur is conducting electioneering in full swing.
The national election is also approaching. It may take less than two years to hold the national election. And, winning the mayoral post could give the winning party leverage to overcome obstacles ahead of the national polls.
However, failure in the polls may result in some challenging situations for Awami League for various reasons.