167 lose lives in non-RMG factory accidents in 6 months: Study
BI Report || BusinessInsider
Published: 16:08, 13 January 2022 Update: 17:16, 13 January 2022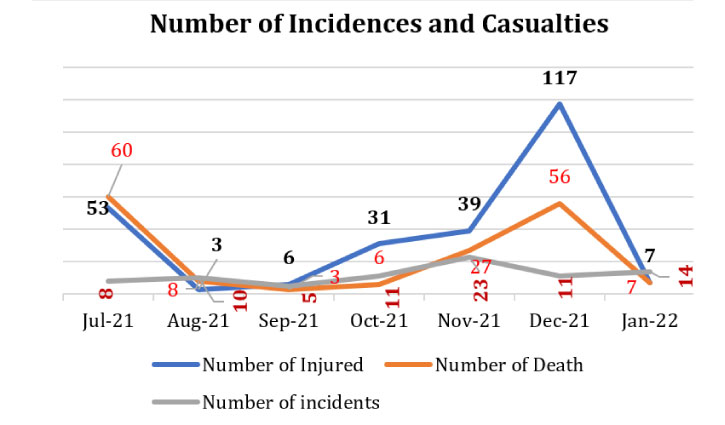 Photo: CPD report screenshot
There were some 82 incidents of fire at non-readymade -garment (RMG) factories across Bangladesh in the last six months, killing 167 people and injuring 256.
The statistics were disclosed in a study report titled "Industrial Safety of Non-RMG Enterprises and Workers: Monitoring Transparency, Accountability and Efficiency of Public Actions".
The study—conducted by the Centre for Policy Dialogue (CPD) in partnership with the Christian Aid under the "Civil Society Monitoring Initiative" programme—was made public at a press conference on Thursday.
The study looked into workplace accidents in Bangladesh after the tragedy at a food-processing factory in Narayanganj on July 8 last year that killed over 52 workers and injured more than 50.
The accidents during this period average to one incident every two days, the survey found.
The majority of these accidents are related to fire (52 accidents); other accidents include electrical, boiler explosion and related issues.
Housing, hospitals and market places, commercial and factories are the main places of accidents.
Major industrial zones are the areas of accidents (53): Dhaka and related areas (29), Narayangonj (10), Gazipur (8) and Chittagong (8).
The study also reviewed the activities of the BIDA-led committee formed after the Narayanganj fire to inspect 5,000 factories in three months.
Calling the progress of its inspection "not satisfactory", the study found the committee failed to inspect the targeted number of factories in due time, managing only to inspect 1,900 (40.3 percent of the target) factories.
Of them, only 16 percent of the targeted factories in Dhaka—the most prone to fire-incident—were inspected.
Senior Researcher of CPD, Dr Khondaker Golam Moazzem during his presentation of the study report, said the BIDA initiative is a good step but its progress is slow because the committee was formed by different organisations.
"Safety measures must be ensured at the time of construction of factories. But monitoring is done after construction, which poses a greater challenge to maintain workers' safety," he added.
"Surprisingly," Dr Moazzem added, "The committee excluded ILO officials from all the activities of inspection even after the United Nations agency's interest."
"They (ILO) repeatedly wrote to BIDA and the committee Chairman Salman F Rahman to this end," he added.
Lack of accountability is the biggest challenge to ensure safety in the RMG sector, Dr Moazzem pointed out adding that the committee also lacks a skilled workforce to manage databases.
"Though the country's fire service responds quickly to accidents, they can only address 64 percent of the accidents, and the rest of the accidents are kept off count," he added.