Stricter tobacco control law must for a tobacco-free Bangladesh: Study
BI Report || BusinessInsider
Published: 16:43, 7 December 2021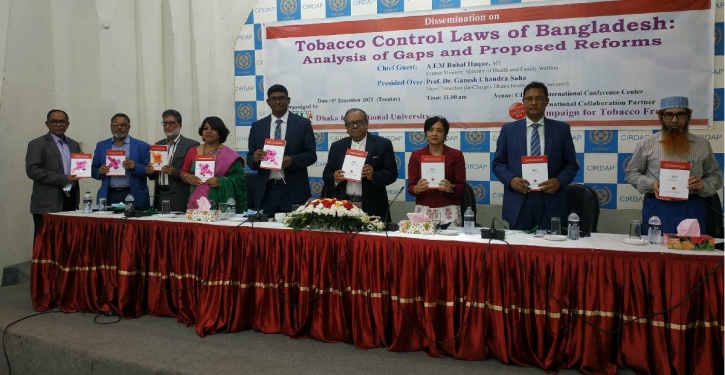 Participants pose for a group photo during the study unveiling seminar at CIRDAP on Tuesday. Business Insider Photo
The existing tobacco control law lacks some of the major provisions from the WHO Framework Convention on Tobacco Control (WHO FCTC), and the loopholes prevent the tobacco control law from playing a strong role in achieving a tobacco-free Bangladesh by 2040, as envisioned by the prime minister.
They include the provisions for smoking zones in public places, displaying tobacco products at the points-of-sales, and falls short of completely banning tobacco companies' corporate social responsibility (CSR) programmes.
Such findings have come up in a study, titled Tobacco Control Laws in Bangladesh: Analysis of Gaps and Proposed Reforms, conducted by the Department of Law, Dhaka International University, with support from Campaign for Tobacco-free Kids (CTFK).
The findings were unveiled on Tuesday during an event at the CIRDAP International Conference Centre in the capital.
The chief guest of the event was former Minister of Health and Family Welfare and the President of Bangladesh's Parliamentary Standing Committee on Science & Technology Dr AFM Ruhal Haque.
The special guests include Kazi Zebunnessa Begum, additional secretary (WHO Wing), Health Services Division, Hossain Ali Khondoker, additional secretary and coordinator of National Tobacco Control Cell (NTCC) and Vandana Shah, regional director of South Asia Programmes at CTFK.
The event was presided by Prof. Dr. Ganesh Chandra Saha, the acting vice-chancellor of Dhaka International University (DIU).
The study findings were presented by Barrister Shameem Haider Patwary, chairman of board of trustees, and president of Tobacco Control and Research Cell at DIU.
The discussants include Md Mostafizur Rahman, lead policy advisor, CTFK and representatives from the NTCC, anti-tobacco organisations and civil society members.
To strengthen the existing tobacco control law, the study puts forth a number of recommendations that include: elimination of provisions for Designated Smoking Areas (DSAs); ban on display of tobacco products at points-of-sale; ban on all tobacco companies' CSR activities and sponsorships; increasing the size of pictorial health warning on tobacco packs to 85 per cent and adopting plain packaging policy; ban on the import, manufacture and sale of emerging tobacco products, i.e., e-cigarette, heated tobacco products (HTPs) and nicotine pouches, among others.
The study also recommends eliminating cigarettes from the list of essential commodities in the Control of Essential Commodities Act 1956, setting the minimum age to sale and buy tobacco products to 21 years from existing 18 years, banning all flavored cigarettes, banning 'brand sharing' of tobacco products and banning display of figures for emission yields (i.e. amount of nicotine and tar) derived from tobacco products' smoke.
In his speech Dr Ruhul Haque said, this study will come in handy to the policymakers in their attempts to amend the tobacco control law.
Kazi Zebunnessa Begum said it is urgent to amend the tobacco control law to make it more time-fitting.
"We are already working on this amendment. I hope, we will soon be able to finalise the draft of the amendment," she said.
Vandana Shah said, the information and evidence from local and global contexts gathered in the study will help the ministry of health to formulate a more FCTC-compliant and stronger tobacco control law.
Barrister Shameem Haider Patwary said, this study will make significant contribution to the realisation of the vision of a tobacco-free Bangladesh in 2040.
As per the Global Adult Tobacco survey GATS 2017 report, currently 35.3 per cent (37.8 million) of adults in Bangladesh use tobacco (smoked and smokeless). Some 38.4 million adults become victims of secondhand smoke in public places, work areas and public transports.
About 161, 000 people die every year in Bangladesh from tobacco use (Tobacco Atlas, 2020) and the economic burden from tobacco use amounted to Tk 30,560 crores in 2017-18 (Bangladesh Cancer Society, 2019).