Rain brings miseries to commuters, students and vendors in city
BI Report || BusinessInsider
Published: 12:51, 6 December 2021 Update: 15:14, 6 December 2021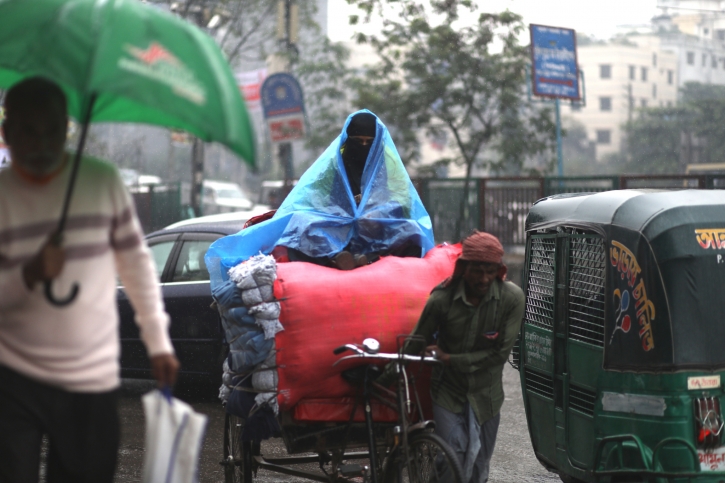 Photo: Business Insider Bangladesh
As an untimely deep depression turned into well-marked low in the Bay of Bengal, Dhaka and other parts of the country are witnessing moderate to heavy rains.
Commuters, school and college goers faced extreme difficulties to find a rickshaw or a public transport this morning, witnesses said.
Not only less number of buses were plying along the roads, most of the rides sharing bikes disappeared from the city roads, multiplying the commuters' torments.
"I had waited for a CNG or ride sharing bike for nearly an hour in the morning then boarded a bus to go to Maghbazar," said Priyanka, a volunteer of a UN office.
Most of the small tea stalls were shut while vegetable vendors did not come out of their homes till writing of this report at 12:45PM.
The rain largely disrupted city life tucking people into their homes.
The Met says the depression will move north-northeastwards further and weaken into a low by evening today. They said a light to moderate rain, thunder showers with temporary gusty wind is likely to occur at most places over Khulna, Barishal, Chattogram, Dhaka, Mymensingh and Sylhet divisions. A few places in Rajshahi division and at one or two places over Rangpur division may see moderately heavy to heavy falls.
The Met said the night temperature may fall slightly over western part of the country and it may remain nearly unchanged elsewhere over the country. Day temperature may fall slightly across the country.