Student movement for half-pass in public transport intensifies
BI Report || BusinessInsider
Published: 14:49, 23 November 2021 Update: 15:47, 23 November 2021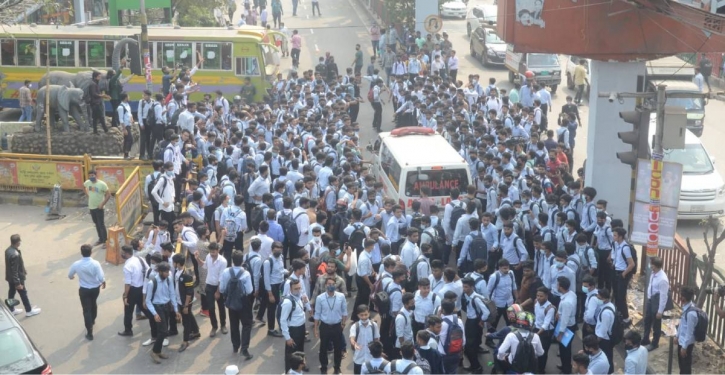 Photo: Business Insider Bangladesh
A movement for half pass in public bus has intensified as students of different educational institutions took to the streets in capital Dhaka on Tuesday, and issued a 48-hour ultimatum to publish a notification in this regard.
A number of students of Dhaka College, Ideal and City College blocked Science Laboratory, Nilkhen and Bakshibazar intersections around 11am slanting slogans "half pass is our right not caprice".
They also issued 48 hours ultimatum to the government asking it to publish a notification upholding the demand for half pass or 50 percent discount for student in the public transports.
One Nadim Khan, a protester, told reporters that thousands crore of money are being looted in the country but why the government is reluctant in introducing half pass system for students in the public transports.
The government will have to publish a notification in this regard within 48 hours and it will have to ensure smooth travel for women, children and physically challenged people in the public transports, they said from a demonstration from the Science Laboratory intersection.
Besides, a number of students brought out a procession from Bakshibazar intersection around 11 am and marched towards Nilkhet intersection. Later, they staged a demonstration here to meet their demand.
Meanwhile, authorities have deployed a huge number of law enforces including police in and around the area to avert any untoward incident centering the student movement.
The government, on November 7, increased fares for intra-city and inter-district buses by 26.5 percent and 27 percent respectively following demand from bus owners in the wake of the hike in diesel price – by Tk 15 a litre.
Later, Bangladesh Road Transport Authority (BRTA) in a meeting with stakeholders increased the fare for inter-district buses to Tk 1.8 per km, up 27 percent from previous Tk 1.42 per km.
The fare for intra-city buses would be Tk 2.15 per km, which was Tk 1.70 earlier.