Rape in Banani Raintree Hotel
Lower court judges need higher training: Experts
BI Report || BusinessInsider
Published: 13:57, 14 November 2021 Update: 18:54, 14 November 2021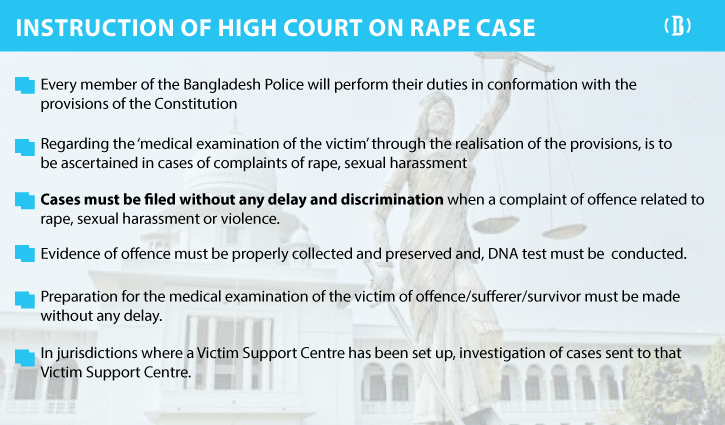 Photo illustration: Business Insider Bangladesh
In the wake of a court ruling that rape cases should not be lodged after 72 hours into the heinous crime, legal experts right away came up to say those judges need more training.
A leading rights organisation, Human Rights Forum, organised on Sunday a webinar to discuss a recent judgment over the much-talked-about rape case of Banani Raintree hotel, four years ago.
The discussants said judges of lower courts need higher training about the latest laws to enhance their knowledge, skills and quality of their judgments.
In the webinar, experts sharply criticized the statement of Judge Kamrunnar who acquitted all accused of the rape charges. She asked the police not file any rape case 72 hours after such a crime is committed.
They vehemently opposed her statement and said according to HC instructions a judge cannot say anything like this.
Human rights activists also demanded that two sections of the Evidence Act to question the character of rape victims be repealed.
They also opposed the 'two finger' test of a victim. They said, without medical tests there is a lot of circumstantial evidence to prove such physical abuses.
Two university students had accused five men of their involvement in a rape at Banani Raintree Hotel in 2017. A case was filed with the Banani police in May 2017, a month after the alleged violation.
While disposing of a writ by some human rights organizations (Writ Case No 5541/2015), the High Court on 18 February in 2017 issued an 18-point directive to be followed by other courts including the lower ones.
Out of these 18 instructions, it has been stated in instruction number 3 that without any specific reason, the concerned officer of the police station cannot delay or refuse to file a case.
The victim can file a case in any police station and the police will collect samples for DNA testing of the suspects and send them to forensic labs within 48 hours.
According to Article 111 of Bangladesh's Constitution, the directions of the High Court are lawfully binding for the junior courts.
The observations of the court in this case is tantamount to extrajudicial and contradict the various landmark judgments and directives of the High Court regarding serving justice to the rape victims.
Speaking at the webinar, Shahin Anam, executive director of the Manusher Jonno Foundation said, "This case is a legal process. There is still room for appeal. We do not want to comment on the verdict right now. We are protesting against the judge's observation in this verdict."