Quran desecration: Protesters clash with police at Kakrail
BI Report || BusinessInsider
Published: 21:57, 15 October 2021 Update: 22:09, 15 October 2021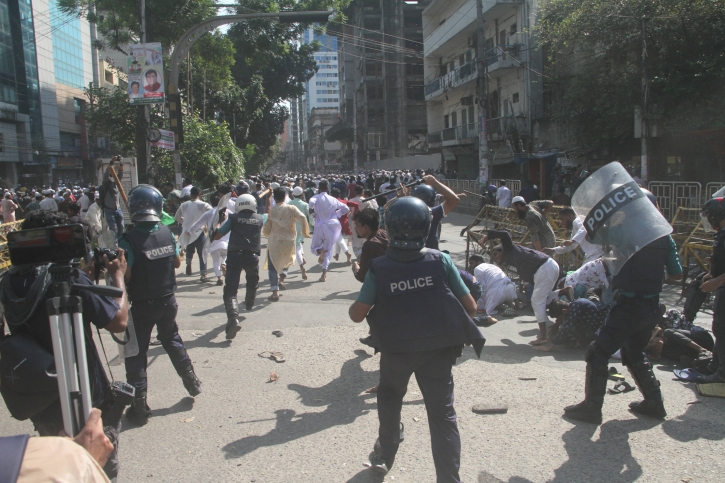 Photo: Business Insider Bangladesh
A group of protesters clashed with on-duty police personnel at the Kakrail intersection following a protest procession that was brought out from Baitul Mukkaram in the capital on Friday.
Five policemen were injured in the clash and three attackers have been detained from the spot, Sajjad Hossain, deputy commissioner of Dhaka Metropolitan Police's (DMP) Ramna division, told media.
The clash occurred after protesters started marching from Baitul Mukarram National Mosque towards Kakrail following Juma prayer.
The protestors were seen throw brickbats at police from the march while police charged batons, tear shells and rubber bullets to disperse them.
Traffic on the road were halted during the clash.
The trouble began as the devotees brought a procession in protest against the desecration of the Holy Quran in Cumilla.
Witnesses said a large number of devotees came out from the national mosque after the Jum'a prayers chanting slogans against desecration of the Holy Quran, adds UNB.
The procession marched through the Paltan crossing and Bijoynagar intersection, and the proceeded towards Kakrail Nightingale crossing.
As police tried to intercept the procession at the Nightingale crossing, they threw brickbats at the law enforcers.
Police also charged batons and lobbed teargas shells triggering a chase-and-counter-chase between the devotees and the cops.
As the clash spilled over to Bijoynagar crossing, police used watercannons and fired blank shots. They brought the situation under control around 2:10 pm.
Contacted, Deputy Commissioner (Motijheel range) of the Dhaka Metropolitan Police Abdul Ahad said the law enforcers charged batons and fired teargas shells to control the situation as the devotees threw brickbats at the law enforcers.
security was beefed up surrounding the national mosque deploying members of the Rapid Action Battalion (Rab), Border Guard Bangladesh (BGB) and different intelligence agencies alongside the police to avert any untoward incident.