Tardy DAP raises more questions than answers as unplanned expansion of Dhaka goes on
Riaz Uddin || BusinessInsider
Published: 06:52, 14 October 2021 Update: 06:54, 14 October 2021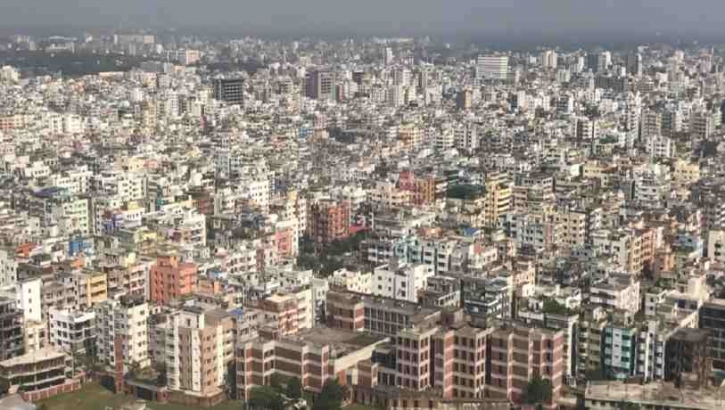 Dhaka has emerged as a jungle of concrete without proper planning. UNB File photo.
If you travel to Gazipur from Banani, you won't find any empty space, park or esplanade on any side of the roads. Seeing unbroken jungle of concrete, your eyes may get irritated along this journey.
So, things won't change even if much talked about Detailed Area Plan comes into force later this year.
Although Detailed Area Plan (2016-35) is seen as a crucial factor for the balanced development of Dhaka city, experts found some flaws in it.
DAP is being formulated for the period of 2016-2035. But six years have already been elapsed and it could not be formulated.
Urban experts are disappointed with the proposed land use area in the current plan. Although the proposed plan proposes residential areas, agricultural areas, forests, mixed-use areas, open spaces, institutional areas, commercial areas and heavy and polluting industrial areas, there is no mention of wetlands or floodplains.
"Master plans have been prepared many times. But these were not implemented. Because it is not going to be implemented on the basis of the consensus of all the stakeholders associated with DAP," architect Iqbal Habib, joint secretary to the sub-committee on urbanization and good governance of the Bangladesh Paribesh Andolon (BAPA), told the Business Insider Bangladesh on Tuesday.
RAJUK officials said the time has been extended until December this year to finalise the city development guidelines. But there is also uncertainty over whether the much talked about master plan could be completed by this time.
A number of national seminars, workshops with the stakeholders and professionals of the real estate sector are needed to avoid any technical controversy of the DAP. But with only two and a half months left into the gazette printing, there is no such initiative visible, experts said.
"The master plan needs to be gazetted by December without further delay. It did not look logical to take six years to formulate a 20-year master plan. And, it is necessary to pay attention so that time is not wasted. The basic work of DAP has already been done," said Prof. Adil Muhammad Khan, General Secretary of the Bangladesh Institute of Planners (BIP).
Officials concerned said most of the work has been completed. In this DAP, several initiatives have been incorporated including redistribution of population density, redevelopment, metro station-based development, construction of 2,749 km road network and construction of 1,327 km waterways.
In order to control the population density, a proposal is out there to set the maximum height of any building to eight storeys and control the floor area ratio (FAR). However, there have been resistance from the land owners and real estate companies and some architects, too. As these issues have not been addressed yet, uncertainty has been deepening about devising the DAP.
In this regard, Local Government Minister and DAP Implementation Review Committee convener Tajul Islam recently said discussions have already been held with all parties to complete DAP. If everything goes well, DAP will be gazetted next December or January.
In March 2015, RAJUK started the work of formulating the revised DAP (2016-2035). DAP's gazette was supposed to be finalised in December 2017. As the work was not completed at that time, the time was extended until December 2018. This was later extended to December this year.
Official concerned said the master plan has been done before. But these was not implemented. Earlier, some parliamentarians of Dhaka constituencies had opposed DAP. They did it on mere political point of view. As a result, the previous (1995-2015) DAP could not be implemented.