14 more die from Covid-19
BI Report || BusinessInsider
Published: 23:06, 10 October 2021 Update: 00:25, 11 October 2021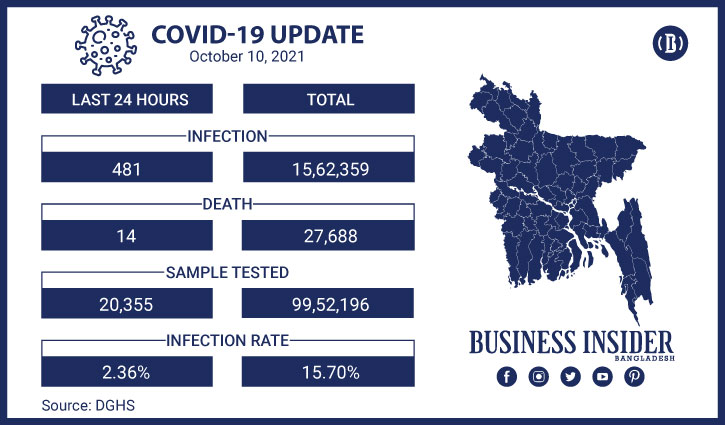 Photo: Representational
Bangladesh reported 14 deaths and 481 infections from Covid-19 in the last 24 hours till Sunday morning.
With this, the number of deaths from the virus reached 27,688 while 15,62,359 patients have been diagnosed with the virus so far, according to the Directorate General of Health Services (DGHS).
Earlier on Saturday, the country reported 20 deaths from the deadly virus.
Meanwhile, the infection rate was 2.36 percent in the last 24 hours till Sunday morning.
DGHS further said that 699 patients have recovered from the virus in the last 24 hours. The total number of recovered patients so far is 15,23,833 – which is 15.70 percent of the total infected.
During the last 24 hours, some 20,355 samples were tested across the country. A total of 99,52,196 samples have been tested in the country so far.
According to the Worldometer data, 238,441,755 cases of coronavirus have been detected worldwide as of Sunday afternoon. The number of deaths reached 4,864,715.
The US is the country with the most numbers of Covid-19 positive cases, followed by India, Brazil, Uk and Russia.
Among the dead, 7 hail from the Dhaka division, while 1 are from Chattogram, 2 from Rajshahi, 1 from Khulna, 1 from Barishal, 1 from Sylhet, and 1 from Mymensingh division.
Only 3 of the 14 dead are male while 11 are female. The majority of them died while undergoing treatment at different government and private hospitals across the country.