Chttogram Elevated Expressway
Construction causes huge traffic jam as authorities ignore citizens' concern
BI Report || BusinessInsider
Published: 11:46, 19 September 2021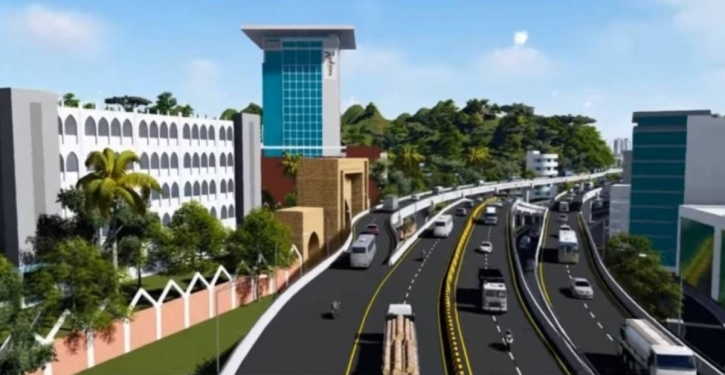 Photo: Representational
Sohel Rana, an employee of Pubali Bank's Kotwali Branch recently moved into his office neighbourhood with his family.
He used to live at Katgor of Patenga area with his parents when he traveled almost four hours a day to join his office.
"It was an extremely hazardous journey for me back and forth as the dust and dirt aggravated my breathing problem," he said.
To avoid such a torment, he moved into the Kotwali neighbourhood, Rana said.
Sumaiya Akter, a first year student of Mohosin College, said she needs two and a half hour time to commute to her college as it reopened recently, following an 18-month Covid-19 pandemic recess.
"I need to start at 9am to attend my 11:30am class," she told the Business Insider Bangladesh on Wednesday.
Akter who lives in Steel-Mill area under Patenga thana with her family said excruciating traffic jams and dust cause her extreme headache and eye itching, every day.
There is no aggregate data in the city on the number of working hours wasted due to traffic jams and the money spent to address citizens' various health complications.
The torments of the Chattogram commuters began with a good project---16.5-km elevated expressway project that was launched in 2017. Most of the roads were occupied for the construction purposes, fences erected, roads got broken, dusts got airborne on a 24/7 basis along the 10-mile journey.
The Chattogram Development Authority (CDA) is implementing the project with an expense of over Tk 32.5 billion.
Commuters alleged that there was none to address their sufferings. They said the quantity of water spread by CDA is insufficient for mitigating the dust.
Meanwhile, on Monday Chattogram City Corporation (CCC) wrote a letter to Chattogram Development Authority (CDA) and requested them to repair the road, as soon as possible.
M Rafiqul Islam, the Chief Engineer of CCC, said the construction works are responsible for deteriorating asphalts, creating hundreds of pot holes across the project area and spawning traffic congestion.
.
"We sent a letter to the elevated expressway project authority to repair all dilapidated roads," Rafiqul said adding CCC is not authorised to do any road repair until CDA hands over the completed project to them.
Health hazard
As construction work progresses, it is generating excessive dust, polluting the environment. The city residents, especially the children are the easy victims of the dust as they develop allergic conditions, asthma and eye problems.
Prof Dr Nasir Udding Mahmud, a child specialist and director of the Institution of Public Health Nutrition said it is mandatory to monitor air pollution index during any construction work.
The health problem of the children because of the construction work also impacts negatively on their overall life, he said, adding that officials must address environmental aspects of the project. He said health issues should get priority during any construction works.
Besides, the construction work generates sound pollution and inflicts insomnia, anxiety attacks and mental health problems on the citizens.
Sociologist perspective
Sociologists say infrastructural development projects can have negative impacts on the citizens if not planned properly. Mega projects like flyovers sometimes ignore social and environmental impact assessments.
"Traffic jams not only kill working hours but they also reduce productivity of a person," said Dr Iftekhar Uddin Chowdhury, former professor of Sociology Department of Chittagong University.
He said all these issues are overlooked during a mega plan and then make people suffer a lot.
Chowdhury, a former Vice Chancellor of CU also said decentralisation and alternative road connectivity can minimise the problem moderately.
All sub-roads have been blocked by mini buses and trucks while the main roads are occupied by heavy vehicles, he pointed out.
"Besides, the alternative roads are not usable due to lack of proper maintenance."
Engineer M Mahafuzur Rahman, the Project Director of the expressway, said
construction works have narrowed down the roads causing huge traffic jams every day.
Due to left-over water from rainfall and tidal surges, the asphalts have gone, he said adding that 'we are spreading water in some areas to control dust.'