Dhaka urges Seoul to invest in circular railway project worth Tk 80,000cr
Riaz Uddin || BusinessInsider
Published: 20:29, 18 September 2021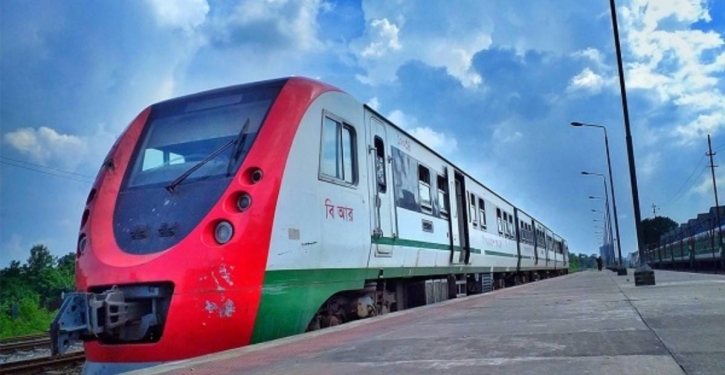 Photo: Representational
Bangladesh has proposed South Korea to invest in an 80-km circular railway project around Dhaka.
If accepted by South Korea, this would be one of the mega transport projects in the country involving Tk 80,000 crore, said Md. Irfanul Islam, Project Director of the feasibility study of the roundabout railway.
As Seoul is examining details of the investment, Dhaka is waiting for a positive response, officials said.
They said the feasibility study has already been finalised and that several agencies have put forward their opinion on the project.
Irfan said the project would be a public-private partnership (PPP) one.
"Talks are underway with South Korea to this end. A final feasibility study has been sent to them and they are scrutinising various aspects of the investment. We are looking forward to their response."
A China-Bangladesh Joint Venture Company conducted the feasibility study.
The government is undertaking the project to make traffic movement easy across the capital city and unclog jams. According to the feasibility study, the project will take six years to be completed, officials said.
According to the feasibility study, the proposed circular railway will en route Bishwa Ijtema Maidan, Uttara, Dhaka Zoo, Gabtali, Mohammadpur, Sadarghat, Postagola, Fatullah, Chashara, Adamji, Demra, Trimohani, Purbachal and Tongi.
There will be a total of 24 stations along the 80-km rail track. Of these, 11 stations will be junctions where circular lines, metro lines and Sadarghat Launch Terminal and several other points would meet. The trains will run on electric power.
Out of the 80-km railway, a stretch of 10 km will be a subway and it will have three underground stations. The rail depots will be located at Demra and Termukh, respectively.
A study report says five million working hours are lost every day in Dhaka due to varying traffic jams. The speed of rush hour vehicles goes down as low as five kilometers per hour. The annual loss is between Tk 25,000 crore to Tk 55,000 crore.
The study was done by the Accident Research Institute (ARI) of Bangladesh University of Engineering (BUET) in 2018.
The roundabout rail lines will have some 24 stations. These are: Ijtema Maidan, Dhour, Uttara, Dhaka Zoo, Dhaka Zoo South, Gabtali, Mohammadpur, Rayerbazar, Kamarangirchar, Sadarghat, Postagola, Pagla, Fatullah, Chashara, Chittaranjan, Siddhirganj, Adamji, Purbachal, Purbachal North, Termukh and Tongi, respectively.
Earlier, the feasibility study was sent to the Roads and Highways Department (RHD), Dhaka Transport Coordination Authority (DTCA), Bangladesh Inland Water Transport Authority (BIWTA) and Dhaka Mass Transit Company Limited (DMTCL) for their opinions.