Control private cars, promote public transports, say activists
BI Report || BusinessInsider
Published: 20:18, 18 September 2021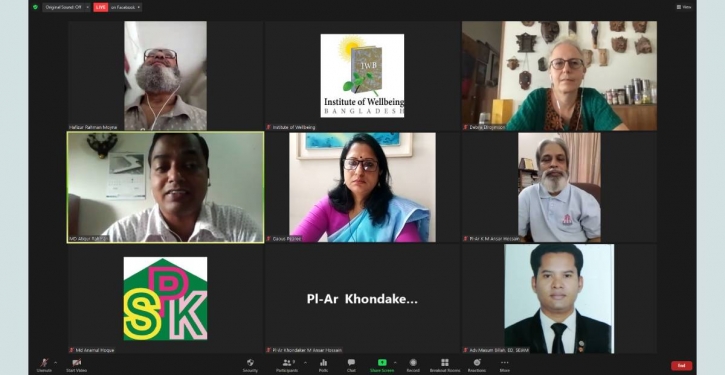 Participants of a virtual discussion titled "World Private Car Free Day 2021: Our Thoughts on Urban Planning" are seen on a screen. Photo: Courtesy
Speakers said on Saturday that private cars that comprise only 7 percent of the trips a day occupy 70 percent of the city streets while public transports that constitute 93 percent trips occupy only 30 percent of the street space.
They urged upon the government to facilitate public transports and discourage private ones for the greater benefit of the city commuters.
Their observation came at a virtual discussion titled "World Private Car Free Day 2021: Our Thoughts on Urban Planning" jointly organised by the Institute of Wellbeing Bangladesh, Car-Free Cities Alliance Bangladesh and Work for a Better Bangladesh Trust.
The campaigners said various effective measures are being taken to control private cars worldwide. But, Bangladesh is walking in the opposite direction, allowing more space to cars and depriving buses and other moide of public transportation, they said.
The speakers urged the government to ensure a walking-friendly environment as well as modernise public transport systems by controlling private vehicles.
The activists said traffic congestion, fuel pollution and accidents are increasing as a result of patronising private cars instead of walking and public transports in various city plans. As a result, Dhaka has been transformed into a city pollution, traffic jams and unsafe for travelers.
The discussion was chaired by Gauss Piari, Director, Work for a Better Bangladesh Trust where Debra Efreimson, Regional Director, Health Bridge Foundation of Canada, gave an introductory speech. The event was conducted by Md. Atiqur Rahman, Project Officer of WBB Trust.
Planner and Architect Khandaker M Ansar Hossain, NASF President Md. Hafizur Rahman Moyna, SIAM Executive Director Masum Billah and SPK Executive Director Enamul Haque were present as guest speakers.